From
Malaysiakini: Read here
by
Mohd Kamal Abdullah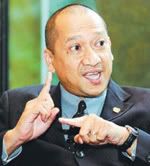 With the current judicial issue that has been blown out of cover,

Minister in the Prime Minister's Department Nazri Abdul Aziz

should admit that he has been feeding the rakyat with false information regarding the incidents that affect his ministry since taking office such as
the Lingam tape
.

Nazri should gracefully resign from his position to take responsibility for his failure to tackle the problem.
Or the Cabinet should immediately sack him for covering up these incidents which has tarnish the reputation of the government and the rakyat in Malaysia.

It's time for Nazri to accept the rakyat's decision since he had been given a government-aided education in the legal field in the United Kingdom and which he should have used with pride and wisdom.

It is the responsibility of the government to conduct an investigation on the incidents reported and punish all those involved, irrespective of their standing.
An independent body comprising of the ordinary rakyat should be established to avoid further confusion on the neutrality and independence of the panel decision.
Anyone who had fouled the law should be reprimanded and punished, and only with this act will the confidence of the rakyat be restored.
-Mohd Kamal Abdullah


Commentary
From

Hizami Iskandar

: Read
here in "Locus Standi" for more
"...Pada hari Selasa, Nazri Aziz mengecam Majlis Peguam Negara dengan berkata bahawa mereka tidak patut 'berperangai seperti pembangkang' dengan berarak ke Jabatan Perdana Menteri untuk menyerahkan memorandum mereka menyeru penubuhan Suruhanjaya Diraja menyiasat video konspirasi perlantikan hakim mutakhir ini.

Seperti biasa, pihak pembangkang dianggap sampah masyarakat, daki yang tidak sepatutnya diikut teladannya.

Kerajaan Barisan Nasional kita ini sememangnya sudah lama terlupa akan perlunya pembangkang - pada hemat mereka, kerajaan mampu memerintah adil saksama tanpa sebarang halangan - pembangkang, media, kehakiman, semuanya seolah-olah tiada maknanya, mampu diabai dibuang sekadar begitu sahaja.

Tetapi mereka yang berkuasa sendiri terlupa - tiada manusia yang bebas daripada kesilapan, lebih-lebih lagi pemimpin pemegang kuasa.

Kuasa dalam demokrasi sekali-kali bukan kuasa mutlak - kuasa semestinya digunakan untuk memanfaatkan rakyat, dan kekangan kepada kuasa kerajaan wujud demi memastikan aspirasi ini tercapai.

Tugas pembangkang bukan sahaja sekadar menawarkan pilihan kepada para pengundi, supaya rakyat bebas memilih kerajaan yang dapat merealisasikan kehendak dan kemahuan mereka, tetapi juga untuk menghalang kerajaan yang berkuasa itu daripada lupa diri dalam kekuasaan mereka.

Pemimpin yang paling berwibawa sekalipun memerlukan teguran dan bangkangan demi memastikan tindakannya betul - sebab itulah Saidina Umar r.a. meminta rakyatnya menegurnya sekiranya ia berbuat salah.

Mana-mana kerajaan seharusnya faham bahawa pembangkang itu wujud untuk membantu mereka berkhidmat kepada rakyat dengan lebih baik. Sememangnya pembangkang sendiri inginkan kuasa pemerintahan, dan tiada kerajaan yang akan suka kehilangan kuasa, tetapi inilah hakikat demokrasi.

Pemimpin dalam demokrasi hanya boleh cuba meyakinkan rakyat - jika rakyat sudah hilang kepercayaan, maka sudah tiba masanya kerajaan menjadi pembangkang, dan cuba pula mengambil kembali kuasa dalam pilihanraya seterusnya. Inilah yang boleh dipanggil adat demokrasi.

Tanpa pembangkang yang kuat, tiada siapa yang dapat memberitahu kerajaan apabila ia membuat langkah yang salah; tiada siapa yang dapat mendedahkan kepincangan mereka, dan akhirnya rakyat merana, kerana undian tanpa pilihan itu langsung tiada maknanya.

Inilah yang diperkatakan Nik Nazmi dalam rencana terbarunya - yang paling penting adalah untuk rakyat berasa bahawa undian mereka itu ada maknanya; supaya janji ahli politik tidak lagi sekadar kata-kata manis semata-mata.

Ada yang berkata, sekiranya semua orang baik-baik masuk ke dalam satu parti, sudah tentu parti itu akan dapat memerintah dengan baik. Buat apa kita ada pembangkang?

Ingatlah, orang yang paling baik sekalipun boleh dirosakkan oleh kuasa. Orang yang paling senang terpedaya dengan pembohongan kita ialah diri kita sendiri. Manusia perlukan teguran dari luar untuk sentiasa pada jalan yang betul - tanpa teguran tersebut, senang sekali kita terpesong.

Ada pula yang berkata, tidak apa kalau nak membangkang, tapi buatlah elok-elok.

Hantarlah memorandum, tulis surat, buat temu janji - gunakanlah sistem yang ada dengan sepenuhnya, buat apa turun padang berarak bising? Mereka ini sentiasa mengutamakan 'saluran yang betul' - sebab itulah mereka marah apabila video VK Lingam diberi kepada media juga, bukannya hanya sekadar pejabat polis dan BPR semata-mata.

Tetapi ingat - salah satu sebab rakyat TIDAK menggunakan 'saluran yang betul' adalah apabila saluran tersebut seolah-olah langsung TIDAK BERKESAN.

Saya pun, pada suatu masa dahulu, berfikiran begitu juga.

Itulah yang saya kata - kuasa, walaupun sekadar tahap Majlis Perwakilan Pelajar sekalipun, masih mampu mengecilkan pandangan kita. Saya sendiri 'terbeli' hujah sebegini, sehinggakan cuba mengekang bangkangan yang sebenarnya wajar dan sepatutnya dihormati dan didengari.

Jika ada di kalangan pembaca yang mengenali penulis 'Soft Porn', yang telah terpapar di papan kenyataan kolej kita pada tengah tahun 2005, tolonglah sampaikan maaf saya yang ikhlas kepadanya. Saya telah memilih untuk mengecamnya, dan menyuruhnya mengikut 'saluran yang betul', bukannya sekadar menulis 'surat layang' semata-mata.

Saya terlupa bahawa sebagai seorang pelajar KYUEM, beliau berhak mengkritik pemimpinnya dengan apa jua cara yang aman, termasuklah surat layang sekalipun. Inilah 'harga' yang perlu dibayar sebagai pemimpin. Kerana saya dibutakan pemikiran saya sendiri, serta tersinggung dengan nada dan kata-kata yang digunakannya, saya telah gagal dalam tugas saya mendengar keluhan semua pelajar. Ini satu kesilapan besar.

Kita harus sedar bahawa nada dan kata-kata itu semestinya bertepatan dengan kemarahan yang dirasai. Jika sekadar hendak meminta paip lama diganti, memanglah tidak pelik pergi ke pejabat daerah dan berbincang semata-mata.

Tetapi apabila hakim tertinggi negara sedang dipersoalkan integritinya, sementara institusi kehakiman terus hilang kepercayaan rakyat, dan kerajaan sendiri bukan sahaja terlibat malah juga seolah-olah enggan bertindak, hairankah jika rakyat, termasuklah peguam-peguam sekalipun, marah meluap-luap panasnya?

Hairankah jika mereka tidak puas hati dengan temujanji semata-mata, tetapi ingin menyuarakan kemarahan mereka sekuat mungkin, iaitu melalui perarakan yang tidak pernah ternampak sejak pemecatan Tun Salleh Abbas pada tahun 1988?

Kerajaan seharusnya menampakkan kematangan dan kewibawaan sebagai pemimpin negara dengan menerima bahawa bangkangan yang bising ini bukanlah sesuatu yang patut dikecam, tetapi sepatutnya diterima dan dihormati.

Kerajaan harus peka kepada sentimen rakyat, dan protes sebegini merupakan tanda jelas kepada mereka bahawa rakyat inginkan perubahan, dan tindakan yang berkesan. Pemimpin harus mengelakkan daripada tersinggung oleh nada atau kata-kata yang kurang menyenangkan, dan sedar bahawa kemarahan yang meluap-luap di belakangnya wajar diberikan perhatian penuh.

Jika rakyat berarak di jalanan, mesti ada sebabnya mereka marah. Sebab inilah yang perlu ditangani dengan ikhlas dan bertanggungjawab, bukannya berselindung di belakang kecaman dan saranan 'saluran yang betul'. Lagi bising dan terbuka protes yang dibuat, maknanya lagi pentinglah isu yang sedang diketengahkan.

Sekali lagi, saya akui bahawa saya sendiri pernah bersalah, pernah masuk ke dalam perangkap kuasa ini. Dan sekali lagi, maaf ikhlas saya meminta.

Saya berjanji tidak akan mengulangi kesilapan itu, dan saya benar-benar berharap bahawa pemimpin yang sepatutnya lebih matang dan berpengalaman daripada diri saya sendiri akan turut meminta maaf atas kesilapan mereka selama ini, dan juga mengelakkan daripada mengulanginya.

Namun demikian, kita semua sedia maklum kerajaan kita ini sememangnya tidak berapa peka akan kehendak sebegini.

Justeru itu, marilah kita mengingatkan mereka bahawa jika pemimpin enggan berubah, rakyat memang mampu MEMAKSA perubahan.

Biarlah pemimpin kita, walau dari mana-mana parti sekalipun, sedar bahawa rakyat tidak lagi sanggup melihat suara amarah mereka didiamkan.

Biarlah semua kerajaan daripada sekarang mula menghormati bangkangan dan protes, bukan sahaja terpegun dengan keindahan memorandum dan keselesaan temujanji.

Undilah untuk perubahan..."
From

KJ John

: Read
here for more
".... Does the de facto law minister, a so-called lawyer himself, understand Federal Constitution 101?

He does NOT see a crisis when practising lawyers see one! I believe there may have been some former judges in the 'walk for justice' because they are lawyers first, and uphold the constitution too.

Look at the comedy of errors.

First, the chief justice issued a statement that he had no comment on the inference that he was the other party in the telephone conversation recorded on the 'Lingam tape'.

Next, the de facto law minister (technically, only a minister without portfolio in PM's Department) issues a statement that the chief justice had contacted him to deny involvement in the phone conversation.

Asked by what authority he did that, he said it was because he is the "CJ's minister".

Really?

Since when did the minister in the PM's Department have jurisdiction over the chief justice?

Which constitution is the minister reading - the Umno Baru one? This was more than a Freudian slip. It was said with intention to deceive and mislead.

My Islamic philosopher friend, Prof SH Nasr, often cites the saying, 'A veil reveals as much as it hides'.

When government controlling officers take orders from their Umno Baru minister and ignore the Parliament in terms of budget allocation and expenditure, I believe that the political and financial rot is complete.

When senior government officers go to the press to defend Umno Baru's privatisation programmes which did not have cabinet approval, the arrogance of the public service delivery system is also complete. It has become a mere extension of the political party in authority - Umno Baru.

The Auditor-General recently highlighted cases respectively involving the secretary-general of sports and culture, and the deputy director-general of the Road Transport Department.

The real question that the Public Accounts Committee and Auditor-General should ask is: Where did these two public servants get the authority to implement their programmes, if not from Parliament or the cabinet? Umno Baru?

What has happened to the government's Treasury Instructions and the Financial Procedures Act? Who has final authority to spend monies or privatise government assets?

In earlier days, the relevant civil servants would have be charged and punished by the department or treasury head.

Why is this not being done today? Have our laws changed?

Or is the de facto law minister also responsible for the 'close one eye' culture on matters of law?

It is said that, in the country of the blind, the one-eyed is king. How true, but before our so-called law minister believes this to be so, let him be forewarned that more than 2,000 lawyers have already marched to say that they can see with both eyes and that they are not color-blind when it comes of issues of justice.

Sorry Mr Prime Minister, but you have a real crisis in your hands!

Please do not listen to your so-called law minister or in any Umno Baru logic.

As you promised your late mother and the nation, you are sworn to stand for integrity as the cornerstone of your agenda. That should not be an Umno Baru agenda.

I believe that the King and the Council of Rulers have enough constitutional authority to dismiss the current government and request that a general election be called to test BN popularity on the basis of integrity alone. That is well within the monarch's authority based on the Federal Constitution.

I would like to urge Malaysians who feel that enough is enough to sign the petition being promoted by the People's Parliament. It is addressed to the King and states that the people have had enough of governmental arrogance and insensitivity to their own issues by their own espoused theory of integrity. ..."
From

Gerard Lourdesamy:

Read
here for more
"....
Let me just comment on a few remarks made by Mohamad Nazri Aziz, the de facto minister for the chief justice and other judges of repute, on the lawyers' 'Walk for Justice':


'The lawyers who took part have a brain like the opposition' - yes, it may be true, but at least we have a brain unlike the minister, who has long since been 'brain dead';


'The Bar Council should register as an opposition party, then I will know how to treat them' - I think we already have too many redundant political parties like the BN;


'I will treat them like an NGO, I don't bother about them' - spoken like a true democrat;


'There is no crisis in the judiciary, everything is fine' - yes, that's true because the judiciary is now beyond redemption and is already in the pit of infamy and ignominy;


'No need for a judicial appointments commission, the government is happy with the present constitutional arrangement' - I suppose that is true if you are happy with inept, incompetent and corrupt judges; and


'There can be no executive interference in the affairs of the judiciary' - ahem, is that why you have become the minister for the judges?

The rest is as we lawyers say: res ipsa loquitur.