Read
Here in Malaysia-Today
and
Here in Malaysiakini
and
Here
and
Here
and
Here in Other Malaysia
Read here related article, "
UMNO is Seditious and Have Not Been Made Accountable To This Day"
We ask

:

Are UMNO and UMNO Members ABOVE the Law?
Prime Minister Datuk Seri Abdullah Ahmad Badawi

said Internet users, particularly bloggers, would face legal action if they broke the law. Bloggers and other Internet posters "do NOT have the freedom to do whatever they like".
Read
here for more
New Straits Times
reported
:
"...Something is wrong with

laws that can charge a man for SPEAKING

against the Yang di-Pertuan Agong, Islam and race relations .... "
- Tan Sri Muhammad Muhammad Taib, Umno information chief
( after opening the Tambun Umno delegates' meeting on 4th August 2007).
The following damning statements are excerpts from the
UMNO General Assembly 2006
that was broadcasted LIVE on national TV & ASTRO.
Have the laws of the land being served to these UMNO members?

These were SAID/SPOKEN and broadcast in public:
"Please, don't test the Malays; in another word that they know 'amok'. We don't want to reach that level! In the present situation, the Malays can still take it but efforts to enhance the Malays' economy need to be intensified". Read here
-Umno secretary-general Tan Sri Mohamed Rahmat

"Malay rights cannot be challenged, otherwise the Malays will run amok and the May 13 (1969) riots will happen all over again."
Razak Idris, Terengganu Umno Youth Information Chief



"Umno is willing to risk lives and bathe in blood to defend the race and religion. Don't play with fire. If they messed with our rights, we will mess with theirs!"
- Hasnoor Sidang Hussein, Malacca delegate

"Datuk Hisham has unsheathed his keris, waved his keris, kissed his keris. We want to ask Datuk Hisham, when is he going to use it?"
-Hashim Suboh, Perlis delegate

"When tension rises, the blood of Malay warriors will run in our veins".
-Azimi Daim, UMNO Youth Exco member
On 24th Novemver 2006, DAP lodged a police report over remarks made two years ago by the deputy permanent chairman of Umno
Badruddin Amilrudin
during the
2004
UMNO General Assembly.
"...
During the speech Badruddin

waived a book on May 13 incident

and spoke to warn the non-Muslims and non-Malays of not to offend the Malay by challenging the special rights of the Malay and the special position of Islam in this country,"
Read
here for more
Read here
article, "Prosecute Umno for sedition"
"..The Attorney-General should charge Umno delegates with making seditious remarks during the party general assembly and threatening Malaysians with the spectre of the May 13 racial riots..."
Read here for more
FAQ: Sedition Act 1948

(Read
here for more in Malaysiakini
)
(1) What is considered 'seditious'?

An act, speech, word, publication or other thing that:
Brings into hatred or contempt or excites disaffection against any Ruler or government, or the administration of justice;


Promotes feelings of ill-will and hostility between different races and classes of Malaysians;


Questions any matter, right, status, position, privilege, sovereignty or prerogative established or protected by specific provisions of the Federal Constitution.
(2) What is the penalty for these offences?
On conviction, the first-time offender is liable to a fine not exceeding RM5,000 or imprisonment for up to three years, or both.
Subsequent offences are punishable with a maximum jail sentence of five years.
Any seditious publication found in possession of the offender and used as evidence will be forfeited and destroyed, or disposed of as the court directs.
The Threatening Keris-Waving Education Minister
at the 2006 UMNO General Assembly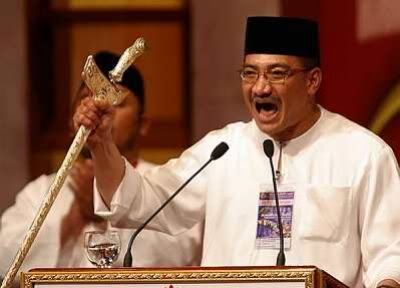 Hishamuddin Hussein Onn, Education Minister /UMNO Youth Chief