Read
Here in Malaysiakini
and in
LimKitSiang Blog
UPDATE:
Two former Transparency International Malaysia presidents Param Cumaraswamy and Tunku Abdul Aziz Ibrahim lodged the report after meeting ACA deputy director Abu Kassim Mohamed yesterday against Chief Justice Ahmad Fairuz Sheikh Abdul Halim over allegations of corruption and professional misconduct found in a poison pen letter.

Malaysiakini got hold of the three-page poison pen letter which detailed various allegations of extravagant claims, favouritism, abuse of power, corruption and judgment fixing by Ahmad Fairuz. Laden with typos, the letter written in English, also alleged professional misconduct by other judges currently sitting on the bench. Read here for more.

Parti Keadilan Rakyat (PKR) will seek an audience with the Conference of Rulers as soon as possible over the videotape of a prominent lawyer who was allegedly seen and heard to be brokering the appointment of judges.

"The Rulers have a constitutional role to play in the appointment of judges," PKR president Datin Seri Dr Wan Azizah Wan Ismail told a press conference here yesterday. Read here for more

Quote:
"...And this from the man who advised recently elevated Muslim judges to remember to do their duty according to Islam!

Who only recently spoke of abolishing Common Law and replacing it with Islamic law!

The Qur'an has a specific description for one who says one thing but does quite the opposite...."
-Haris Ibrahim in "People's Parliament"
Excerpts: Read
here
and
here for more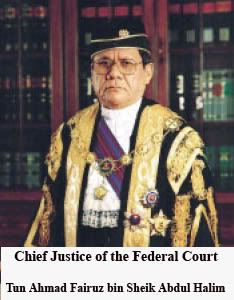 In a letter to Prime Minister Abdullah Ahmad Badawi today,
MP Lim Kit Siang called for Ahmad Fairuz Sheikh Abdul Halim to be suspended
and for a
(Judicial ) Tribunal to investigate the judicial misconduct highlighted by the grainy eight-minute video.

Lim said
Ahmad Fairuz should be suspended under Article 125 of the Constitution
, which allows the removal of a Federal Court judge in the case of an ethical breach.
The law also allows the king to appoint a tribunal, and on recommendation of the tribunal, to remove the judge from office. Read
here for more
The following was posted by MP Lim Kit Siang
on his blog
:
"...I have written to the Prime Minister, Datuk Seri Abdullah Ahmad Badawi asking him to invoke

Article 125 of the Constitution

to suspend Tun Ahmad Fairuz Sheikh Abdul Halim as Chief Justice and to establish a judicial tribunal to investigate the serious allegations of judicial misconduct against him as highlighted by the Lingam tape made public by Datuk Seri Anwar Ibrahim yesterday.



Article 125(3

) reads:

"125 (3). If the Prime Minister, or the Chief Justice after consulting the Prime Minister, represents to the Yang di Pertuan Agong that a judge of the Federal Court ought to be removed on the ground of any breach of any provision of the code of ethics prescribed under Clause (3A) or on the ground of inability, from infirmity of body or mind or any other cause, properly to discharge the functions of his office, the Yang di Pertuan Agong shall appoint a tribunal in accordance with Clause (4) and refer the representation to it; and may on the recommendation of the tribunal remove the judge from office."

I also asked the Prime Minister to invoke

Article 125(5)

which reads:

"125(5), Pending any reference and report under Clause (3) the Yang di Pertuan Agong may on the recommendation of the Prime Minister and, in the case of any other judge after consulting the Chief Justice, suspend a judge of the Federal Court from the exercise of his functions."

I said in my letter to Abdullah that with the appointment of an Acting Chief Justice, concerted efforts must be made to restore public confidence in the independence, impartiality, professionalism and integrity of the judiciary.

I also stressed that the time has not only come for the establishment of a Judicial Appointments and Promotion Commission to assist the Prime Minister to ensure an accountable, transparent and meritorious appointment and promotion of judges but also for a Royal Commission of Inquiry to propose institutional reforms to ensure that Malaysians enjoy a truly independent judiciary and a just rule of law.

Under Article 125(4), a Judicial Tribunal

"shall consist of not less than five persons who hold or have held office as judge of the Federal Court, the Court of Appeal or a High Court or, if it appears to the Yang di Pertuan Agong expedient to make such appointment, persons who hold or have held equivalent office in any other part of the Commonwealth, and shall be presided over by the member first in the following order, namely, the Chief Justice of the Federal Court, the President and the Chief Judges according to their precedence among themselves, and other members according to the order of their appointment to an office qualifying them for membership".
Statement from

ALIRAN

: Read
here for more
"...Aliran demands that the

Chief Justice be immediately suspended

so that an Independent Commission of Inquiry can get to the bottom of the truth without any interference or sabotage. This first step is of vital importance.

Further, we demand that there should be an earnest judicial review for the following:
1. All judgments involving Datuk Seri Anwar Ibrahim's court cases;

2. The farcical sodomy conviction cases of Sukma and Dr Munawar Anees;

3. The sacking of Tun Salleh Abas, Tan Sri Wan Suleiman and Datuk George Seah;

4. The elevation of Tan Sri Moktar Abdullah to the Federal Court some three weeks after his retirement from his office as the Attorney-General;

5. The Ayer Molek case;

6. The Metramac case;

7. All high profile cases in which these judges sat after leap-frogging over more senior and deserving judges still in service;

8. Justice Idid's letter which condemned and implicated 12 judges by citing 112 serious allegations of corruption and malpractice;

9. Reporter Raphael Pura's allegation that lawyer V.K. Lingam had written parts of the judgments of a judge in his defamation case;

10. The case of certain judges holidaying overseas with lawyer V.K. Lingam.

The controversy that we are embroiled in is a serious one that has completely undermined people's confidence in our system of justice and tarnished the image of the judiciary irreparably.

Any delay in addressing this issue will make a mockery of justice and turn Malaysia into a laughing-stock.
STATEMENT from

SUARAM

: Read
here for more
"...Our country cannot afford to have this matter to be swept under the carpet.

Urgent and immediate actions need to be taken to stop the disease in the judiciary that is worsening by the day. SUARAM urgently calls for a Tribunal to be convened immediately and for judges who have been named, especially the Chief Justice, to act honourably to salvage their reputation and integrity - resign with immediate effect!.."
COMMENTARY
From Zainol Abideen. Read
here in Mahaguru58 Blog
".. I am sure that most of us are getting pissed off with the way our Malaysian justice system is seen to be nothing but a hotbed of politically manipulated 'one for you; one for me' fix up arrangement by the ones we see calling the shots and playing 'God' over us all.

Today, we get to learn the true colors of our judges and advocates whom we have been duped into thinking that being learned intellectuals and practitioners of law, they would not betray the people by doing all these criminal acts.

Its just as dirty and as bad as the political theater of this nation is concerned where even the hallowed halls of Parliament are not safe from abuse and indecent language and attitudes that have destroyed any iota of moral responsibility and cultured civility that we so imagined to prevail at such august institutions of a decent and fair government!

I just don't have any sense of respect to all those judges and lawyers anymore.



I leave it to you to decide how you want to go about it in choosing your next government based upon all these evidences of wrong doing being vomited out by the system...."
From
"Cakap Tak Serupa Bikin" Blog
"....we Malaysian must now wonder what sort of justice system we had all these years.

The only interesting fact is that, there was an Indian lawyer who said he is working very hard to assist a Malay Judge in scheming his career path, using the assistance of a Chinese Towkay, while concocting with a Royal Minister, manipulating a Mamak Prime Minister. This is truly Muhibbah!

Another point of interest is that this Indian lawyer advised the Malay judge to use the name of Allah, that is to say, he is leaving everything to Allah to ensure him the position of Chief Justice.

However, what puzzles me is the fact that this judge (Ahmad Fairuz) had made a proposition that the English Common Law should be replaced by a Malaysian Common Law.



So, what sort of Malaysian Common Law do we have?



The video did hypothetically suggest that Malaysian judicial decisions could be much influence and dictated by well-connected lawyers and rich entrepreneurs who had linkages to the political leaders whom were empowered to decide the career destination of judges and chief justices, and those aspiring judges would need to seek connectivity and favors from some lawyers and businessman.

If one day, the Parliament do decide to amend the Civil Law Act (Section 3) and repeal the Common Law and replaced it with a Malaysian Common law, I am not sure how the legal fraternity and the international jurist would view our law.

We will not know what type and kind of rule of law will subsist in that system which is suppose to administer justice based on political patronages and directive.

I think we do need to have a lot more prayers for grace and guidance. We may also need to pray for peace and safety.

Amen!