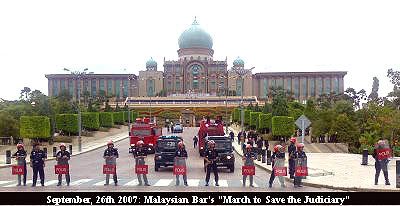 Protecting the Elected and Unelected "Untouchables"
from Members of the Malaysian Bar
Riot police armed with batons and shields shadowed the (lawyers') march, which organisers described as the biggest protest ever staged by lawyers, as it moved toward the entrance of the prime minister's office, which was guarded by a water cannon.
Seven buses chartered by Bar Council were barred from entering Putrajaya and caused the delay to the peaceful march this morning.

Bar Council chairperson Ambiga Sreenevasan described the heavy security during the protest, including the presence of anti-riot police and a police helicopter, as "an act of intimidation".

Some 2,000 protesters, comprising of lawyers, civil society members and the public, having earlier defied a police order not to march to the office, waited patiently outside for their representatives to hand over the documents, braving heavy rain which started about 12.45pm.


After police
stopped buses
ferrying the protesters to Putrajaya, some 200 occupants got off and walked to the Palace of Justice.Bar Council human rights committee deputy head Amer Hamzah Arshad, holding a loud-hailer, led their chants as they walked:
Who are we? Malaysian Bar!
What do we want? Justice!
We're doing this for the sake of the country!
Correct! Correct! Correct!

This has been the third walk, also the longest and the biggest, in the Bar's history.

The first was in 1978, while the second was in 1998, when Anwar Ibrahim's defence counsel Zainur Zakaria was cited for contempt of court.



(Image of map courtesy of sobnation blog)
CLICK
HERE FOR MORE PICTURES OF THE "WALK FOR JUSTICE
"
For more, go to
Malaysiakini
,
Rocky's Bru
,
Nuraina Samad's Blog
,
Patrick Yeoh's Blog
,
Screenshots,
Rustam Sani's Blog