Update
Malaysian NGO,Aliran, rejects the appointment of the three-man panel to probe into the authenticity of the Lingam tapes. The panel announced their terms of reference - to verify the authenticity of the video clip which first surfaced on Sept 19. Aliran says the government's move does not go far enough or deep enough to address the serious problems plaguing the judiciary. The rot in the judiciary extends beyond the Lingam tapes. Establishing or debunking the authenticity of the tapes is not going to solve the crisis in the judiciary. It is not the be all or the end all of the matter. Read here for more

How do we move forward? We must vote for a government which put country above party and let the judicial system be, allowing our judges to do their job without fear or favour.

We must free our people from fear. Read here for more in Malaysiakini

If you are willing to challenge the status quo and assumptions supporting the existing power structure, please walk to the People's Parliament or to Malaysia-Today . Find there two separate People's Petitions drafted by civil rights lawyer Haris Ibrahim and Raja Petra Kamarudin to the Yang Dipertuan Agong.

Now we, all of us citizens, must keep on pressing, so the work to clean up our judiciary, to rescue it from the quagmire of mistrust, will continue until we can once more rest easy in the belief that in Malaysia, justice can and will be done. Read here for more
Malaysian Unplug says:
When citizens lose faith in the Government they have voted in, and when citizens come to realise the electoral system was manipulated to entrench power of the dominant ruling political party ie UMNO, to run this country, the sentiment in the country is one of helplessness.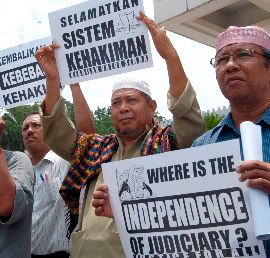 This is a Government perceived by Malaysians as one holding power that is answerable only unto itself, whose actions are callous, and at best, arrogant; a Government that does not seem to be bothered to be accountable to citizens, and a Government that is out of touch with the mood of the country.

Malaysians are simply fed-up with the corruption, political patronage and the shenanigans: Enough is Enough.

It is in sheer desperation arising from fear that this UMNO-led Government is drifting the country "to the dogs", that drove Malaysians of all races to look to the Council of Malay Rulers and the Yang diPertuan Agong.
There are now at least THREE PETITIONS/LETTERS heading towards the Palace appealing for royal intervention.
1.
Petition to the Agong, coordinated by Haris Ibrahim of People's Parliament
.
READ HERE
2.
Petition to the Agong, coordinated by Raja Petra Kamarudin of Malaysia-Today
.
READ HERE
3. Letter to the Agong from the President of KeAdilan
(
Read below
)
DR WAN AZIZAH WAN ISMAIL
Presiden Parti Keadilan Rakyat
Merangkap Ahli Parlimen Permatang Pauh
No 17, Jalan 16/2, Sekyen 16, Petaling Jaya 46350 Selangor.
Telefon: 03-79566444
Faks: 03-79565444
Website: www.keadilanrakyat.org
Email: wawi9@yahoo.com

Duli Yang Maha Mulia Al-Wathiqu Billah Tuanku Mizan Zainal Abidin Ibni Al-Marhum Sultan Mahmud Al-Muktafi Billah Shah
Seri Paduka Baginda Yang Dipertuan Agong
Istana Negara
Kuala Lumpur

28 September 2007

PENUBUHAN SURUHANJAYA DIRAJA BAGI MEMBERSIHKAN IMEJ SISTEM KEHAKIMAN

Ampun Tuanku,

Didoakan semoga DYMM Tuanku bersama DYMM Tuanku Permaisuri sentiasa di dalam lindungan dan rahmat Allah s.w.t.

Merujuk perkara diatas, sayugia dirafa'kan sembah bahawa pada minggu lepas Datuk Seri Anwar Ibrahim telah pun mendedahkan sebuah video rakaman perbualan telefon antara peguam VK Lingam dengan Ketua Hakim Negara Tun Ahmad Fairuz Abdul Halim. Video yang dirakam sekitar tahun 2002 ini mendedahkan wujud konspirasi dari pihak-pihak tertentu untuk melantik hakim-hakim yang dapat menjamin keputusan penghakiman yang selari dengan keinginan politik. Antara lain, nama-nama seperti Tan Sri Vincent Tan dan Tengku Adnan Tengku Mansor disebut telah menaja usaha ini.

Maklumat ini mengesahkan kebimbangan sejak pemecatan Ketua Hakim Negara Tun Salleh Abbas pada tahun 1988 dan kenyataan bekas Ketua Hakim Negara Allahyarham Tun Mohammed Suffian pada tahun 2000 apabila beliau menyatakan bahawa beliau tidak bersedia berdepan dengan hakim sekarang apatah sekiranya beliau tidak bersalah.

Hujah ini diperkuat oleh tulisan Ke Bawah Duli Tuanku Raja Azlan Shah pada 2004 yang melahirkan kebimbangan terhadap terhakisnya keyakinan rakyat terhadap institusi kehakiman. Baginda juga menyesali bahawa mahkamah telah diperalatkan untuk memutuskan dengan sewenang-wenangnya bahawa "peranan oleh DYMM Raja-Raja Melayu" merupakan satu prosedur ringan semata-mata.

Imej institusi kehakiman negara kita yang sudah pun tercalar begitu lama sudah tentulah binasa sama sekali. Kes ini berkaitan dengan begitu banyak isu-isu membabitkan institusi kehakiman selama ini, termasuklah:

a) Insiden pemecatan Ketua Hakim Negara Tun Salleh Abas dan Hakim-Hakim Mahkamah Persekutuan Tan Sri Wan Suleman dan Datuk George Seah

b) Semua keputusan membabitkan kes Datuk Seri Anwar Ibrahim

c) Kes Wee Chee Keong

d) Kes Lim Guan Eng

Daulat Tuanku,

Berdasarkan keterangan tersebut, patik memohon agar DYMM Tuanku memperkenan membentuk sebuah Suruhanjaya DiRaja dibawah Akta Suruhanjaya Siasatan 1950. Suruhanjaya tersebut seharusnya diberi kuasa meneliti bukan sahaja kesahihan video tersebut, tetapi juga dakwaan yang dibuat di dalam video tersebut mengenai perlantikan hakim dan amalan rasuah di dalam institusi kehakiman. Hanya sebuah Suruhanjaya DiRaja yang melapor terus ke DYMM Tuanku dan mempunyai kuasa memanggil dan melindungi saksi dapat memulihkan keyakinan rakyat Malaysia terhadap institusi kehakiman negara.

Pihak patik bersedia sekiranya DYMM Tuanku berkenan bertemu dengan pihak patik untuk membincangkan perkara ini dengan lebih mendalam. Di dalam keadaan di mana maruah institusi kehakiman dan kerajaan kini sudah berada di dalam keadaan yang amat dasyat, DYMM Tuankulah yang dapat memainkan peranan yang adil dan saksama untuk mencari penyelesaian terhadap perkara ini bagi kebaikan seluruh rakyat Malaysia. Kuasa untuk menyelamatkan maruah negara kini berada di tangan DYMM Tuanku.

Patik mohon ampun dan maaf di atas segala kekurangan, dan menjunjung kasih di atas kesudian DYMM Tuanku menerima warkah ini.

Ampun Tuanku,

t.t.

Dr. Wan Azizah Wan Ismail
Ahli Parlimen Permatang Pauh
Presiden Parti Keadilan Rakyat