Read
here article by Mahfuz Omar
Quote:

".... Tan Sri Zaki Tun Azmi baru sekitar dua tahun menjadi hakim kanan dan terus dilantik sebagai Hakim Mahkamah Persekutuan, kemudian menjadi Presidennya. Akhirnya dalam masa yang singkat menjadi orang nombor satu di Istana Keadilan.

Sebelum ini, Tan Sri Zaki memegang beberapa jawatan dalam Umno. Yang terakhir ialah Timbalan Pengerusi Lembaga Disiplin Umno.

Bagaimana seorang hakim tidak bebas politik mengetuai Badan Kehakiman di negara ini?

Individu yang berprofil tinggi yang hendak didakwa dahulu, sehingga matipun kes mereka tidak selesai. Sesiapa yang rapat dengan Perdana Menteri sebagaimana rapatnya VK Lingam itu, maka mereka akan terlepas dari undang-undang.

Agaknya kerana itulah Tan Sri Zaki "diberahikan" sangat oleh Perdana Menteri untuk dijadikan Ketua Hakim Negara. Sekurang-kurangnya boleh diselamatkan anak menantunya (Khairy Jamaludin) dari didakwa.

Gangster versi baru dalam Umno ini mungkin mahu membawa orang-orang yang tidak mencalon atau mengundi mereka kemuka pengadilan. Kerana itu para menteri pun ketakutan.

Almaklumlah... ketua hakim kroni mereka sekarang!
-Mahfuz Omar

oleh
Mahfuz Omar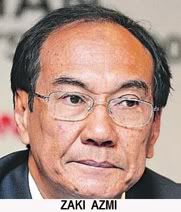 TIDAK semena-mena Ketua Hakim Negara yang baru,
Tan Sri Zaki Tun Azmi
memberi ingatan kepada para hakim supaya tidak menerima rasuah ketika berkhidmat kerana mereka menerima gaji daripada wang rakyat. Betul kata
Tan Sri Zaki
itu.
Tetapi beliau sendiri dilihat oleh rakyat sedang memakan wang rakyat secara tidak betul kerana menjawat jawatan yang tidak layak baginya.
Baik dari segi senioriti mahupun integriti, kedua-dua tidak ada pada
Tan Sri Zaki
. Dia baru sekitar dua tahun menjadi hakim kanan dan terus dilantik sebagai Hakim Mahkamah Persekutuan, kemudian menjadi presidennya dan akhirnya dalam masa yang singkat menjadi orang nombor satu di Istana Keadilan.
Tetapi yang banyak diragui rakyat adalah tentang hubungan langsung
Tan Sri Zaki
dengan parti pemerintah kerana sebelum ini
beliau memegang beberapa jawatan dalam Umno
. Yang terakhir ialah
Timbalan Pengerusi Lembaga Disiplin Umno
.


Bagaimana seorang hakim yang tidak bebas politik mengetuai badan kehakiman di negara ini?
Mungkin kerana hendak menuetralkan anggapan ini, hakim lain diberi amaran. Apapun, rakyat tetap melihat perlantikan ini sebagai natijah projek integriti palsu yang menjadi legasi Abdullah Badawi.
Dasar-Dasar Kronisme dan Perkauman
Ketika mula menjadi Perdana Menteri pada 2003,
Abdullah Badawi
melancarkan perang terhadap rasuah dan menyusun pelan integriti kerajaannya sehingga rakyat kagum dan BN menang besar pada 2004.
Tetapi, kerana dasar-dasar kronisme dan perkauman beliau, dalam masa empat tahun sahaja sokongan itu sudah hilang.
Lima tahun selepas
Abdullah Badawi
mengisytiharkan perang terhadap rasuah, kajian
Institut Integriti Malaysia (IIM)
menunjukkan bahawa 53 peratus responden mengatakan tahap rasuah di Malaysia tinggi. Itupun dengan 67 peratus respondennya adalah suri rumah yang tidak terdedah dengan maklumat semasa. Jika IIM meninjau pandangan ahli-ahli politik, kakitangan swasta, ahli akademik dan mahasiswa, mungkin data ini berubah dengan drastik!
Apa tidaknya kerana semua orang tahu siapa yang berkuasa di tingkat 4 JPM dan menantu siapa yang membolot kekayaan negara. Individu yang berprofil tinggi yang hendak didakwa dahulu, sehingga matipun kes mereka tidak selesai. Semuanya permainan silap mata Abdullah Badawi!
Sesiapa yang rapat dengan Perdana Menteri sebagaimana rapatnya
VK Lingam
itu, maka mereka akan terlepas dari undang-undang.
Agaknya kerana itulah Tan Sri Zaki "diberahikan" sangat oleh Perdana Menteri untuk dijadikan Ketua Hakim Negara.
Sekurang-kurangnya boleh diselamatkan anak menantunya dari didakwa.
Bila menyedari nasibnya sudah dihujung tanduk,
Khairy Jamaluddin
cepat-cepat mencabar
Mukhriz Mahathir
supaya berdebat menyatakan visi masing-masing. Hendak dipertahankan mereka parti yang menghidap "sakit tua" itu.
Rata-rata pemerhati politik mengatakan debat itu hanya helah Khairy sahaja untuk mendapatkan jawatan idamannya. Dia tahu perwakilan sudah meluat dengan kegiatan 'mencuri' duit rakyat dan kerana itu wang yang ditaburnya gagal membeli undi perwakilan pemuda.
Politik Wang Dalam UMNO
Mukhriz
berkali-kali bercakap soal politik wang yang digunakan untuk membeli jawatan tertinggi dalam sayap pemuda itu.
Rais Yatim
pun berkali-kali berkata Umno akan terkubur apabila politik wang terus diamalkan dalam parti itu sehingga beliau mencadangkan ditenderkan sahaja jawatan-jawatan partinya.
Pun begitu, di sebalik dakwa-dakwi tentang politik wang yang semakin membarah dalam Umno, orang yang dikatakan "taukeh" politik wang ini masih susah hendak mendapat pencalonan. Apa sebabnya wallahualam.
Kerana gagal dibeli undi inilah maka timbul pula cerita baru dalam politik Umno.
Kata Setiausaha Agung Umno, dia pun terima juga SMS ugutan dari Singapura. Menteri yang jaga harga minyakpun berkata perkataan yang serupa. Ugut dan ancam yang dahulunya sering digunakan ke atas penyokong pembangkang, kini menular dalam parti itu sendiri.
Politik Gangsterisme
Nampaknya Umno juga sudah menjadi seperti MCA.
Tentu kita masih ingat sewaktu Presiden MCA, Ong Tee Keat menjadi ketua pemuda dahulu isu gangsterisme dalam parti perkauman Cina itu heboh diperkatakan. Seorang yang dipanggil
Jackie Chan
dikatakan mengatur semua jawatan tertinggi MCA menggunakan pengaruh gangster. Sebab itu,
Ling Liong Sik
dikatakan bertahan lama, tetapi akhirnya
Jackie Chan
disumbat ke Simpang Renggam sahaja.
Politik gangster dalam MCA menyebabkan parti itu huru-hara sekian lama dan baru sekarang ini
Ong Tee Keat
mendapat kuasa. Ini pengalaman MCA yang tidak diiktibarkan oleh Umno.
Orang Umno hanya mahukan kuasa, bagaimana caranya... bergantung pada matlamatnya
!
Dahulu Umno beberapa kali cuba melaksanakan politik gangster ini.
Abdullah Badawi
tentu tahu bagaimana bapanya ketika memimpin Pemuda Umno pernah menubuhkan 'Barisan 33' yang bersenjata sehingga diharamkan British. Kemudian
Senu Abdul Rahman
ketika melancarkan Revolusi Mental menubuhkan Pemuda Tahan Lasak yang diketahui umum tahap keganasannya terhadap parti lawan.
Dan kerana
Najib Razak
ketika menjadi Ketua Pemuda Umno menyeru ahli-ahlinya membawa walaupun sebatang mancis ketika berbalah dengan MCA pada 1987, saya terpaksa meringkuk dalam ISA. Hari ini, mereka tidak lagi mengugut menggunakan senapang atau batang mancis, tetapi hanya bersenjatakan SMS!
Cerita-Cerita Wakil Rakyat Kena Bunuh
Sudah banyak kali juga kita mendengar cerita-cerita wakil rakyat kena bunuh. Dahulu wakil rakyat PAS seperti
Cikgu Tahrim Arifin
dan
Abdul Samad Ghul Ahmad
dibunuh ketika zaman Pemuda Tahan Lasak.
Dalam Umno, pembunuhan Speaker
Datuk Taha
oleh Menteri Belia dan Sukan dahulu tentu masih dikenang oleh
Rais Yatim
.
Pembunuhan
Dr Joseph Fernandez
di Lunas tidak dikaitkan dengan politik, tetapi pembunuhan wakil rakyat MIC di Johor dahulu belum usai lagi siasatannya.
Demikianlah budaya gangster dalam politik BN di negara kita. Jika tidak ada pemimpin pembangkang yang hendak "dibelasahnya", sama sendiri pun boleh juga.
Bak kata pepatah Arab, "
Api jika kehabisan kayu, akan membakar sesama sendiri
".
Tidak diketahui dengan jelas apakah kandungan sebenar ugutan dalam SMS yang dikatakan oleh
Sharir Samad
itu. Tetapi nampak takut benar beliau. Mungkin ugutan yang seperti dulu-dulu juga agaknya. Sekurang-kurangnya ugutan itu melibatkan pendedahan kegiatan haram mereka, seperti mana
Chua Soi Lek
ditelanjangkan dahulu.
Amalan rasuah dan salah guna kuasa memang perkara biasa bagi pemimpin BN. Dan ini boleh menjadi senjata pada musim pemilihan jika ugut dan ancam mahu digunakan.
Gangster versi baru dalam Umno ini mungkin mahu membawa orang-orang yang tidak mencalon atau mengundi mereka kemuka pengadilan.
Kerana itu para menteri pun ketakutan.
Almaklumlah... ketua hakim kroni mereka sekarang!
RELATED ARTICLES
From

New Straits Times , 6 August 2005

.
Read
here article by A. Hafiz Yatim
Excerpts:
".. ( In June 2005)Tan Sri Zaki Azmi took a second wife quietly in a ceremony in a textile shop in Perlis . Both he and Nor Hayati Yahaya, 32, agreed to burn the original marriage certificate to hide the marriage from his first wife.

They also reached an agreement before the marriage that if the relationship soured, they would let each other go. The relationship unravelled on July 10. After disagreements and a number of disturbing text messages, he divorced her on that day.

Since then, he alleged that he has received various threats from Nor Hayati. She allegedly demanded RM10 million and urged him to register their marriage. Tan Sri Zaki is now seeking a declaration from the Lower Syariah Court here that his second marriage is null and void.

In his statement of claim filed on July 26, Zaki said that Nor Hayati and he were married in May this year in a ceremony presided by a kadi from Thailand. After the ceremony, both the newly-weds signed a form, which was written in Jawi and Thai.

He sought legal advice after the divorce and was told that his marriage may not have been legal under the local Syarak and Syariah law. The 59th Federal Territory Consultative meeting states that a marriage performed by a Thai kadi outside his jurisdiction in Thailand is considered void..."
From

Bar Council Website Forum

: (8 November 2008)
Read
here for more
Tan Sri Zaki Azmi confessed that he bribed court officials when he was a
lawyer - this is clear from the New Straits Times report:

"What I am telling you is not fiction but based on my own experience in private practice," he said at an integrity convention here.

Recalling an incident in 1987, Zaki said he was "blacklisted" when he complained to the chief registrar of two missing files belonging to his clients.

"It took me six months to be nice, to bribe each and every individual to get back into their good books before our files were being attended to.

"That was my personal experience, and I am telling this to
all the clerks and all the registries to stop this nonsense and I know this is happening, even as late as last week... a lawyer came to see me."

He added that the clerk asked the lawyer to come the next day to
collect the file after saying "tapi jangan lupa, ya", signalling him to come with cash.
- New Straits Times, 8/11/2008

The law is clear, and one such provision that makes it an offence is Anti-Corruption Act 1997.

COMMENTARIES
From "

Kamal Talks"

blog:
Read
here
Excerpts:
It has been reported that the Conference of Rulers had endorsed the request made by the Prime Minister Datuk Seri Abdullah Ahmad Badawi to appoint Tan Sri Zaki Azmi as the next Chief Justice.

Tan Sri Zaki who was recently appointed as a President of the Court of Appeal has direct dealings with UMNO and had served in many positions in the political party and government institutions, which undermines his credibility for being fair and to uphold justice.

At the same time, Tan Sri Zaki had also carried out illegal acts like marrying a second wife by dubious means and later unable to register it. This only came to light at the divorce proceedings at the Syariah Court. It was reported that during the courtship days, he had confess that he will remain with her forever.

Since there are various disputable factors, Tan Sri Zaki Azmi SHOULD NOT be appointed as Chief Justice to preserve the independence of the judiciary and in upholding justice.

The rakyat, the stakeholders should be allowed to vote the next Chief Justice on their respective candidate credentials.
From Al-Husseyn Blog: Read
here for more
"...Ketua Hakim Negara adalah satu institusi yang sangat dihormati.Malaysia sedang berusaha kearah memulihkan imej institusi kehakiman negara yang begitu tercalar akibat perlucutan jawatan Ketua Hakim Negara Salleh Abas suatu ketika dulu dan pelbagai lagi skendal sebagaimana yang didedahkan melalui isu klasik
'correct, correct, correct' .
Zaki Azmi yang disifatkan oleh PM Dollah sebagai 'pembawa reform' kehakiman, sebenarnya adalah sebaliknya. Zaki tidak layak menjadi seorang Hakim apatah lagi menjawat sebagai seorang Ketua Hakim Negara ; kata Karpal Singh dengan merujuk kepada kenyataan Zaki Azmi berikut :
'Ia mengambil masa enam bulan untuk menjadi baik, merasuah setiap individu supaya diterima semula sebelum fail-fail kami dilihat semula. Itu adalah adalah pengalaman peribadi saya, dan saya memberitahu perkara ini kepada semua kerani dan pendaftar supaya menghentikan perkara karut ini'.Lihat laporan di sini
Perlantikan Azmi sebagai Ketua Hakim Negara , sebenarnya adalah satu komplot jahat Umno.
Gelaran Tan Seri dan Tun adalah gelaran terhormat.
Bagi saya , Zaki tidak layak menggunakan gelaran tersebut melainkan beliau sanggup bersara dengan terhormat; itupun jika benar beliau mempunyai secebis harga diri.
-"Al-Husseyn"