Read
here for more on The Rhino Blog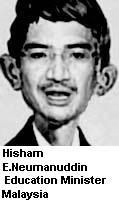 Read here for more on his twin, Alfred E. Neuman
Hishammuddin Hussein aka Hisham E. Neumanuddin is living proof that Umno is dead.

He represents to the public just how deeply stupid and incapable Umno's next generation is, whatever the advantages they have been given.
He's the young bangsawan with the yokel manners.


He's the youth leader with the right wing rhetoric.


He's the keris-wielder with a mind of mush.


He's living proof of the principle of regression to the mean.
It wouldn't be so bad if he were a marginal or older figure in Umno.
But as Youth Chief, and Minister of Education, he is the paragon of Umno's, and BN's future.
And he's determining your kids' future.
Let's see what Bernama reports him saying today:
Hishammuddin: Compromise on contest possible


KUALA LUMPUR, Jan 28 — The suggestion by the Besut Umno division that candidates for the party's deputy presidency compromise to avoid a contest is not a far-fetched one, said Umno Youth chief Datuk Seri Hishammuddin Tun Hussein.
He said the matter was not impossible as that was Umno's way and that due consideration for determining the party's leadership was not just Umno's or the Barisan Nasional's matter but should be a comprehensive matter.

"If there is something that can be discussed, we should discuss it, and what needs to be distributed after March we should distribute now," said Hishammuddin who is in Mecca to perform the umrah.

Hishammuddin said this when commenting on the Besut Umno division's suggestion that the candidates for the party's deputy presidency and the vice-presidents' post compromise ahead of the party's polls in March.

In the same statement, Hishamuddin also commented on the suggestion by Umno's discipline board's chairman, Tan Sri Tengku Ahmad Rithaudeen Tengku Ismail, that the party restructure its organisation by abolishing its wings if it really wanted to do away with money politics.

Hishammuddin said the call was not acceptable and was impractical to implement.

"

I respect him as an experienced veteran but in all humility I feel the suggestion is not right. If that were to happen it would portray that we are faced with great pressure.





"Party members have been in the wings from very early on. Several roles have been played effectively by the wings and we have seen a good organisational structure

," he said.

Hishammuddin said Tengku Ahmad Rithaudeen may have his own opinions and reasons on the matter but to resolve the matter there was no short-cut. — Bernama
It's ok to stitch up the contest for Deputy and Vice Presidential Posts.
'it's Umno's way'
, to avoid open elections.
Wherever possible, avoid the open, go for the stitch up. And when in government, avoid open tender. If you can't direct nego, then collude. Same principle.
The Umno way
.
Just "distribute", he says. And let's get down to it as soon as possible.
Why come to think of it, this is exactly all that he has done in his years as Minister of Education. Distribute. Projects. Don't ask him if he's done a thing to improve our schools in four years.
On the other hand, Ku Din's suggestion for reform is unacceptable because, horror of horrors, it makes Umno look like it's actually "
under pressure
. " This is supposed to be a refutation of Ku Din's suggestion. It's hard to do, and it makes us look like we need to do something.
In the immortal words of Alfred E. Neuman, "What, me worry?"

He backs a reactionary suggestion. He quashes a progressive one.
He says the proposal to dissolve Umno's wing's is 'impractical to implement' but then calls it a 'short cut'. Pre-empting party elections by cutting a deal is not a 'short cut', however.
When in doubt, remember the Neumanuddin maneuver: spout something that makes 'em go "Huh?"
Hishammuddin is the perfect antidote to anyone who still harbors fantasies that Umno will get better. He hasn't a whit of the intelligence or dignity of the old man he patronizes, and he's the future.
Every time he gets up to say something I cringe in embarrassment. For him. For me, for Malaysians who suffer having him represent us abroad at UNESCO and in front of our school children, where it becomes clear to all the moment he opens he mouth, the man is a simpleton, an arrogant, entitled simpleton. And he is our Minister of Education.
If this man and his like are the future of Umno, the entire country must hope Umno is buried. Soon. Please.