Rihanna 'Too Sexy' For PAS

.
PAS wants to stop R&B star Rihanna from performing here on Feb 13.
PAS Federal Territory Youth chief Kamaruzaman Mohamad
said inviting the Barbados-born singing sensation to Malaysia was "
akin to insulting eastern culture, belittling local artistes, intentionally causing losses to the country's economy and supporting Israel's war policy, which is supported by America
".
The PAS wing said it also found the Grammy award winner to be unsuitable because she often performed suggestively and wore skimpy, sexy outfits.
Read
here for more
28th August, 2008:
Avril Lavigne's big concert in Malaysia was on (Aug 29) despite Islamic (PAS) protests tried to have her banned.
The Pan-Malaysian Islamic Party, slammed the show for being "

too sexy

."
However, PAS has said that they will continue to protest, this time outside the venue before it starts.
Nasrudin Hassan
of PAS said in a statement:
"A concert of this nature is not conducive to teach the younger generation to become good citizens, upright and competitive, but instead would weaken them morally and mentally.
If the concert organisers do not heed this warning to cancel the concert, PAS youth will order all Muslim youth to turn up and protest the concert in order to prevent it from taking place."
Read
here for more
22 Oct 08 :Indonesian dangdut performer Inul Daratista was first slated to perform in Stadium Larkin, Johor Baru on 19 July, but the concert was cancelled.
The singer is famous for
her sexy gyrations
. She performed instead at the Indonesian Embassy premises in Kuala Lumpur.
Inul Daratista is only one example in an extensive list of popular foreign artists who have had their performances frustrated or banned altogether on apparently moral grounds.
Inul Daratista's July 27 concert at Bukit Jalil Stadium was cancelled by Kuala Lumpur City Hall at the eleventh hour after strong protests by PAS Youth.
Federal Territory branch of
PAS Youth chief Kamaruzaman Mohamad
handed over a memorandum registering the group's outrage to Kuala Lumpur mayor Datuk Abdul Hakim Borhan,saying "
concerts by such artists contribute to the collapse of morals and rise of social ills that afflict Malaysian youth."
.Read
here for more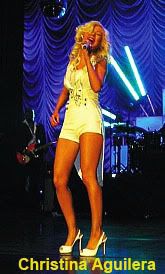 Two high-profile artistes have already given Malaysia a miss.
They have opted for more hospitable venues in the region, where the enforcement of entertainment licenses are relatively clearer and less easily
manipulated by moral outcry
.
Christina Aguilera's 2007
Back To Basics tour
included stops in neighbour Singapore, Thailand and the Philippines, but she refused to perform here.
Since her concert would not be held in Malaysia, Celcom took taking her fans to the concert in Singapore instead.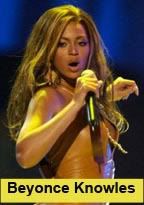 Beyoncé Knowles has shelved a concert in Malaysia to avoid running into
problems anticipated by her raunchy costumes
.
Beyonce Knowles, also in 2007, swapped her Kuala Lumpur concert for one in Jakarta.
Pineapple Concerts' chairperson Razlan Ahmad Razali told the press:
"Though Indonesia is also a Muslim country, it doesn't have all these issues that we have. She can perform as she likes there."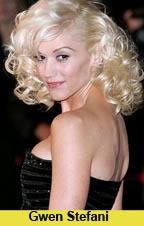 August 17, 2007:
Federal Territory PAS Youth Exco members headed by Kamaruzaman Mohamad
have handed a memorandum to Kuala Lumpur Mayor Datuk Hakim Borhan calling for the cancellation of Gwen Stefani's The Sweet Escape 2007 concert.
Kamaruzaman said it was not just about her dressing but her image, which was obscene and would bring down the moral of youths.
Asked if he had seen any of her concerts, he said he had not but had seen her pictures on the Internet and advertisements on television and they were indecent.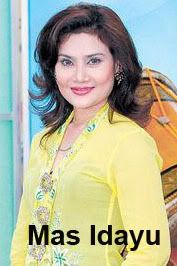 June 17, 2008: The youth wing of PAS opposed a planned concert by two popular female singers, saying their sexy attire and erotic dance moves tarnish the image of Islam.
Rock singer, better known as Ella, and pop singer Mas Idayu were due to perform July 6 at a concert in central Selangor state to kick off an annual football match.

The event is organized by Selangor's opposition-led government.
Mas Idayu is known as the "Queen of Dangdut," a genre of Indonesian popular music.


Ella is hailed as Malaysia's "Queen of Rock". PAS said their performance was inappropriate as the event would be attended by many youngsters. "Their dressing and performance don't reflect the true Malay culture. Their image is unacceptable to Islam. We are not against the concert but we feel the two singers should be replaced," The Associated Press was told.

PAS youths may stage a peaceful protest if the two singers are not banned from the concert, he warned. Read here for more

COMMENTARY

From Colleen McAllister : Read here

Remember back in August when Avril Lavigne's Best Damn Tour concert stop in Malaysia was in danger of being cancelled because protestors thought she was "too sexy"?

WELL! Rihanna is having the same problem!

According to the same group, the Pan-Malaysian Islamic Party, the "Disturbia" singer is "sexier and more dangerous" than Avril! The 20-year-old performer's management say that she is "aware of the country's regulations and the difficulties of doing a show."


Other performers who have had problems performing in Malaysia include Gwen Stefani and the Pussycat Dolls.

Stefani made what she called a "major sacrifice" by not wearing outfits that showed a lot of skin while the Pussycat Dolls were fined almost $3,000 for going against regulations with their costumes.

Rihanna's concert is scheduled for February 13 and is already selling a lot of tickets.