Read
here for more
Unreliable and Sacked
from Kedah Exco for Poor Performance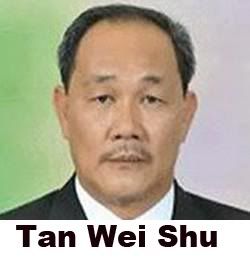 PKR's Bakar Arang (Kedah) assemblyman Tan Wei Shu has quit PKR and he said will remain as an independent assemblyman.
He was dropped in the recent state exco reshuffle. PKR leaders said that the Kedah MB dropped Tan from the state exco as his performance was below par. He was replaced as Kedah exco member by Sidam assemblyman Tan Joon Long @ Tan Chow Kang last month.
"
He knows why he was dropped but he is not happy as the party agreed with the state government on the matter,"
said a party leader, who added that the party had anticipated Tan's move.
PKR leaders said that Tan's decision to quit the party was due to his unhappiness after being dropped as a state exco member.
Speaking to reporters in Parliament, PKR chief Anwar Ibrahim said he was not surprised by Tan's decision.
"He started attacking us a few weeks back and now he has picked the time to coincide with the Hulu Selangor by-election to leave,"
he said.
PKR's Sungai Petani MP Johari Abdul has denied that he was responsible for the abrupt departure of the Bakar Arang state representative from the party.
The parliamentarian also denied he had conspired with state party leaders to oust Tan as Kedah state exco member. Johari said the political decision to drop Tan a month ago was "taken collectively by state and national leaders."
It is learnt that Tan and Johari had a ugly spat during the state P KR liaison committee meeting a fortnight ago.
Tan is said to have accused Johari of plotting to oust him from the state cabinet in the PAS-led Kedah government helmed by Menteri Besar Azizan Abdul Razak.
Johari cited Tan's 'poor performance' as the main reason for his exit from the state administration.
Tan's departure from the party today leaves PKR with only three state representatives, which include S Manikumar (Bukit Selambau) and Lim Soo Nee (Kulim). All PKR assemblypersons are state executive councillors now.