Read
here for more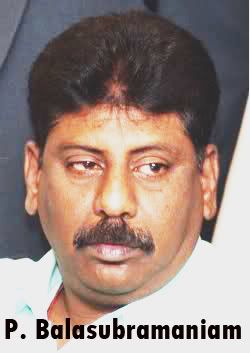 By

P. Balasubramaniam
On March 24th, Member of Parliament Zulkifly Noordin claimed he had been instructed to implicate Datuk Seri Najib Razak and his wife Rosmah Mansor in the murder of the Mongolian model Altantuya Shaariibuu.
The mainstream media picked up on Noordin's statement, using it in an attempt to paint Altantuya's murder as part of a conspiracy to undermine Najib Razak's position as the Deputy Prime Minister and future Prime Minister.
Whatever Noordin says should in no way distract Malaysians from the facts of this case and the pressing need to re-open the investigation into the murdered Mongolian woman.

Furthermore Noordin is foolish to think that he is somehow in a unique position to make such a daring allegation.
The basic facts of this gruesome murder and conspiracy that are in the public domain already demonstrate a clear link between Najib Razak, his wife, the heinous crime and its subsequent cover-up.

There was no need for him, of all people, to have been chosen as the revealer of all this ignominy. Nor is it reasonable that his services were needed to concoct a false link given how strong the actual links really are.
The only question Noordin should answer today is why he waited so long to divulge information which might have been pertinent to the investigation. If they were factual links of a conspiracy why didn't he reveal them sooner?
If these links could possibly have exonerated your client, Azilah, from the charge that he faced, are you not duty bound as his attorney to have pursued them to the fullest extent to save Azilah from the cruel fate that he now faces?
Before further confusion arises from Noordin's grandstanding let me review the established facts of the case and reiterate my willingness to clarify these facts to the Malaysian authorities:
1. Musa Safri is Najib Razak's aide-de-camp and a superior officer to Azilah and Sirul, who now face capital punishment for the murder of Altantuya.
2. Azilah and Sirul were Najib's bodyguards at the time of the murder. Najib recently denied this fact once again in an interview in the Economist yet.

3. Musa Safri ordered Azilah and Sirul to help Razak Baginda "solve the problem" with the Mongolian girl.
4. Sirul confessed to having been offered a sum of between RM50,000 to RM100,000 to eliminate Altantuya, or as Sirual described it, "selamatkan".
5. Sirul, at the end of the trial, said in court… "I am just a black sheep that has to be sacrificed to protect unnamed people who have never been brought to court or questioned".
6. Razak Baginda and Najib Tun Razak are close associates. Both were intrinsically involved in the purchase of Scorpene submarines and Sukhoi jets for the Malaysian armed forces.
7. Razak Baginda's company, Perimekar Sdn. Bhd., received substantial commissions for these two deals.
8. Altantuya was Razak Baginda's mistress at some point in time. Her services as a French and Russian translator were used by Razak Baginda in negotiations for the purchase military hardware.
9. Altantuya had alleged she was owed some commissions for her role in these deals.
10. Najib Tun Razak was the Defence Minister during the period these deals were taking place.
11. Altantuya had travelled to Kuala Lumpur in October 2006 to secure payment of her commissions from Razak Baginda, who had employed my services to keep her away from him.
12. I was called as a witness for the prosecution during the trial of Azilah, Sirul and Razak Baginda and gave evidence in court.
13. I also affirmed a statutory declaration in July 2008 in which, inter alia, further links were established in respect of the relationship between Najib Tun Razak and Altantuya.
14. I retracted this first SD within 18 hours by producing another one, and then went missing with my family immediately thereafter.
15. I have since revealed everything that happened since I released the first SD including evidence of threats, harassment and bribery orchestrated by influential people to ensure my silence.
16. I have identified a number of personalities involved in my removal from Malaysia after I released my first SD and have provided details of payments made to me by these personalities.
17. None of the personalities mentioned by me have denied their involvement in these matters.
18. A police report has been lodged based on my revelations but no police action has been taken to date.
19. A report has also been lodged with the MACC but no action has been taken to date despite my willingness to assist so long as reasonable precautions are taken to ensure my personal safety.
These are simply facts of the case which are known to everyone yet ignored by the courts, the Malaysian authorities and perhaps also YB Zulkifly Noordin.
Furthermore in light of these very public facts and allegations key individuals linked to the crime and cover up have neither refuted nor denied the statements made against them:
1. That I myself had seen a message from Najib on Razak Baginda's handphone, in the presence of a lawyer, which said…. "Seeing IGP at 11am, everything will be OK…be cool". This occurred on the morning of Razak Baginda's arrest for allegedly abetting the murder of Altantuya Sharibu.
2. Raja Petra Kamarudin's SD stating Rosmah was at the scene of Altantuya's murder and detonation.
3. That Deepak and Dinesh Jayakishan were representing Rosmah and and/or Najib's family in seeking to negotiate a 'deal' in order to entice me to retract my first SD.
4. That I was subjected to mental pressure by thinly veiled threats against my family, which were made personally by Datuk Nazim Tun Razak (Najib's Razak's brother) the day I released my first SD.
5. That Rosmah had invited me for breakfast after I retracted my first SD in order to thank me for doing so.
6. That Deepak organised the application for and securing of passports for my wife and children so that they could leave the country that very same day.
7. That Deepak or Dinesh had organised transportation for me and my family from Kuala Lumpur to Singapore in a van, and thence to Bangkok, Kathmandu, New Delhi and finally Chennai.
8. That Deepak Jayakishan made substantial payments to me to keep me away from Malaysia until Najib Razak became the Prime Minister.
9. My production of copies of various cheques for substantial sums drawn on the accounts of Deepak Jayakishan and Carpet Raya Sdn Bhd in support of my allegations that he had been paid off to leave the country.
10. My identification of the person who was in a blue Proton Saga the day Altantuya was abducted outside Razak Baginda's house by Sirul and Azilah as one Nasar Safri, Najib's right hand man.
In October 2009 I recorded an interview in the presence of my lawyer, Americk Sidhu Singh and two other prominent Malaysian attorneys explaining in detail what happened to me after July 3, 2008 when I publicized my first Statutory Declaration. The transcript of this lengthy interview is available online.
I then offered to give a complete statement to the MACC with only one stipulation – that my personal safety be guaranteed. Instead the MACC offered to conduct the interview within the Malaysian High Commission in Singapore, which is virtually identical to conducting the interview inside Bukit Aman itself. Knowing what I have endured for the past 18 months and that witnesses have recently been killed while in MACC custody, the MACC's offer is foolish and reflects how unwilling they are to take my statement.
Given the interest Zulkifly Noordin has taken in the Altantuya murder mystery I would ask him to raise these important matters with Prime Minister Najib Razak when he sees him next.