Read
here for more
Zulkifli Noordin pressed me for money, says Kulim ADUN/Kedah exco Lim Soo Nee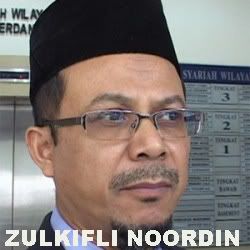 ALOR STAR:
Zulkifli Noordin is back in the spotlight, with a Kedah state councillor alleging that the maverick MP asked him for money in the name of a third party during the Altantuya Shaaribu murder trial in 2008.
Lim Soo Nee, the state assemblyman for Kulim, said Zulkifli sent him threatening messages asking for money on March 5 and 6 of that year.
He said the Kulim-Bandar Baru MP told him PAS needed the money for its campaign in the 2008 general election.
Lim described Zulkifli as someone who would twist facts to suit his convenience.
"
He will go to any extreme to satisfy his needs, even to the point of using third parties
," he said.
"
I'm exposing this now only because I can no longer sit and watch him dupe the rakyat. I am sure many are easily hoodwinked by him."
Zulkifli was sacked from PKR last month and now serves as an independent MP. His recent speeches appear to be supportive of the Najib administration. In one of those speeches, he said he was offered a large sum of money to implicate Prime Minister Najib Tun Razak and his wife Rosmah Mansor in the murder of Mongolian beauty Altantuya.
Lim said Zulkifli told him during the 2008 election campaign that he was in possession of sensitive evidence relating to Altantuya's murder.
At the time, Zulkifli was the lawyer for Chief Inspector Azilah Hadri, one of the suspects in the murder. However, he subsequently withdrew as Azilah's counsel.
Last March 24, Zulkifli resurrected the Altantuya saga in Parliament when he claimed that a third party had offered him payment in return for implicating Najib and his wife in the murder. He said the amount offered was enough to "shake one's faith".
In the Altantuya case, Abdul Razak Baginda, an aide and close friend of Najib's, was charged with abetting Azilah and another special operations officer, Sirul Azhar.
Abdul Razak was subsequently acquitted, but the two policemen have been sentenced to death.
Describing Zulkifli's disclosure as a "confession" and a "betrayal of friend and party," Lim said:
"Zulkifli sent me two text messages during the 12th general election asking for campaign money. He claimed a third party needed the funds. According to my SMS record, he said the PAS machinery needed RM21,000 for the campaign and that PAS would boycott the campaign if the request was not met.

Zulkifli said I only needed to bear part of the cost, which was RM7,000. I did not immediately respond so Zulkifli sent me a second message saying I had angered PAS. He urged me to him to give whatever I could.

After Pakatan Rakyat won the election, I happened to meet the Kulim-Bandar Baru PAS chief, Yaakub Husin. I mentioned the incident to him. He was shocked and denied asking for money for the campaign.

Since then, I have been wondering what Zulkifli needed the money for because there was such urgency in his messages."
He has challenged Zulkifli to tell the truth or at least resign in the name of truth.
"Better we have a by-election,
" he said. "
Then we'll see if the Kulim-Bandar Baru constituents will support him."
RELATED ARTICLE
Zulkifli Noordin's Nose Grows Even Longer
Read
here for more
Zulkifli Noordin tries to come across as a
mujahideen
.
When he raided the Malaysian Bar Council he declared that he is a Muslim first and all others second. He would defend Islam, declared Zulkifli Noordin , to the last drop of his blood.
That is most noble of this
mujahideen
who dares do things that many PAS members themselves would not dare do. Zulkifli Noordinis above even PAS.
Why, therefore, did PAS NOT take him as their candidate in the last general election?
The answer is very simple, really.
Zulkifli Noordin is a Pathological Liar
PAS cringes each time Zulkifli Noordin speaks at a ceramah. He is always exaggerating and lying, said one PAS leader to a group of opposition supporters in the UK recently.
This PAS leader then offered many examples of what Zulkifli Noordinhad spoken at various ceramah. But when the party did a check none of what Zulkifli Noordin said was true.
Zulkifli Noordin claimed to have flown overseas and claimed to have met this person or that person. But when a check was made it was discovered that Zulkifli Noordinhad not even left the country.

And when checks were made with people Zulkifli Noordin was supposed to have met, these people not only had not met him but also did not even know who he is.
That was why PAS did not want Zulkifli Noordin as their candidate in spite of his so-called commitment to Islam and supposedly Islamic credentials.
The word on the ground is that Zulkifli Noordin is too Islamic even for PAS. The truth is Zulkifli Noordin had been bullshitting once too often and each time had been caught spinning a yarn that PAS did not want to touch him with a ten-foot pole.
Zulkifli Noordin penchant for stretching the truth with the aim of wooing the crowd was well known as far back as 1998-1999.
Zulkifli Noordin would go round the country to speak at ceramah where he would tell all and sundry about Anwar Ibrahim lying on his deathbed and at the point of death. Umno had poisoned Anwar and he is now dying, said Zulkifli Noordin to the sobbing crowd. The only thing that can now be done is to pray for Anwar's soul.

Then, the next day, we see Anwar smiling and waving at the crowd as he arrives at court for his trial. But then the kampong folks who followed Zulkifli Noordin's ceramah the night before were not there in court to see all this. They were still at home wiping their tears after the trauma of Zulkifli Noordin's ceramah of the previous night.
Now Zulkifli Noordin speaks again and this time about his prediction for the opposition. The part I like most is this:
He laughed when told that Prime Minister Datuk Seri Najib Razak had termed him a principled man for having been brave enough to speak out against his former party, and said: "

Well, as I have said repeatedly — the truth will always be the truth and you cannot go wrong when you have the truth on your side."