Read
here in Malaysiakini
The world No. 1,China's Lin Dan, was too good on the night. With that, he broke the hearts of 27 million Malaysians when he beat Lee Chong Wei for the Olympics gold medal in Beijing tonight.
Such is the cruel game of badminton. The one in better form on the night will win. And there is always a home ground advantage in any sports.
The expectations of the whole nation to bring back Malaysia's first-ever Olympic gold medal proved to be too heavy a burden for Lee Chong Wei.
But Chong Wei could hold his head high for what he had achieved at the Beijing Olympics.
He can return to Malaysia a hero as he is the FIRST Malaysian singles shuttler to qualify for the final in the Olympics.
Malaysia's last triumphant return from the Olympics was in 1996 with a silver from the doubles pair of Cheah Soon Kit and Yap Kim Hock and a bronze from singles winner, Rashid Sidek.
Malaysians can be consoled that at least, there is a silver lining from the Beijing Olympics.
Chong Wei said:
"There's no excuse for losing. This is my worst defeat by him. I am sorry but I had no answer to Lin Dan's play today (yesterday). He was almost perfect and I know, I was disappointing but I just couldn't cope with his speed."

Although Chong Wei lost, Badminton Association of Malaysia president Datuk Mohd Nadzmi Salleh hoped that his success to make the final would inspire younger players.
"
Although he did not win, I am happy that Chong Wei has made it to such a level. We will try again in London Olympics in four years' time but the important thing is we have to start planning now. We have to bring in our juniors into the national set-up,"
he said.
RELATED ARTICLE
AND HE BROKE WORLD RECORD 100m WITH UNTIED SHOE LACE
Read
here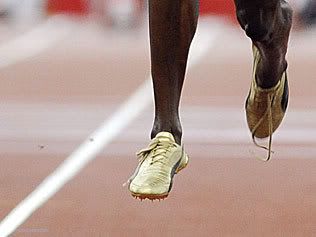 Jamaica's

Usain Bolt's


untied shoe during his 100m final win at the Beijing Olympics.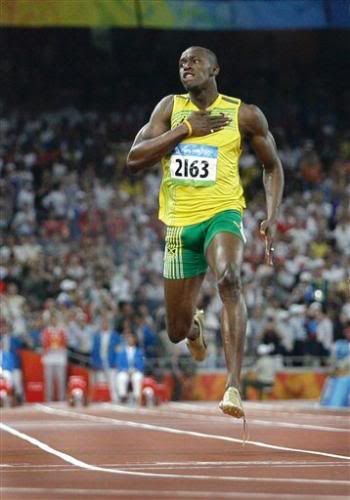 JAMAICA'S Usain Bolt won Olympic gold and set a new world record in the 100m - with his left shoe undone.
Bolt's time of 9.69 seconds could have been faster - if his shoelace was tied - and if he hadn't spent the last metres pounding his chest and hamming it up for the cameras.
But Bolt, who won by more than a body length, wasn't fazed.
"It wasn't planned," Bolt said of his early celebration.
"My aim was to come out and win. When I saw the time, I'm celebrating. I'm happy."