Related articles:
Datuk Seri Anwar Ibrahim will be charged for sodomy when he turns up at the Jalan Duta sessions courts on Thursday (7 August) after police took a civil approach today and served him with a subpoena to appear in court.
Ten years ago, balaclava-clad elite policemen arrested him and detained him under the Internal Security Act before preferring charges.

His court appearance will come a day after the Election Commission decided that the Permatang Pauh by-election will be held on Aug 26 which Anwar said he will contest.Read here in Malaysian Insider for more

On July 31, Anwar's wife, Wan Azizah Ismail, tendered her resignation from parliament. Azizah's resignation offers Anwar the quickest and safest route to back to parliament. However, Azizah, who has held the Permatang Pauh seat since 1998, will remain as the official head of the Parti Keadilan Rakyat (PKR), the largest opposition party.

Anwar's decision to contest in the Permatang Pauh by-election was deliberate, according to Malaysian political analyst James Wong.
By taking over a seat from his own wife, Anwar might be trying to prevent the ruling coalition Barisan Nasional from politicising the move. James Wong added,
"If Anwar had taken any other opposition seat, the BN would say he is not giving his own party members face. He is just walking in and taking what they have already fought to win in the last elections.

But if it's Dr Wan Azizah giving up her seat... that, people can accept. It's a wife, a family member, offering up her own seat to her husband."
Besides, Datuk Seri Dr Wan Azizah Ismail has always made it clear that she was an accidental politician who was forced to step up to Parti Keadilan Rakyat's top job after her husband's 1998 downfall.

But why not aim for daughter Nurul Izzah's Lembah Pantai seat? Universiti Kebangsaan Malaysia's head of political science, Dr Ahmad Nidzammuddin, feels that Anwar did not want to jeopardise his daughter's political career. Read here for more
Permatang Pauh Constituency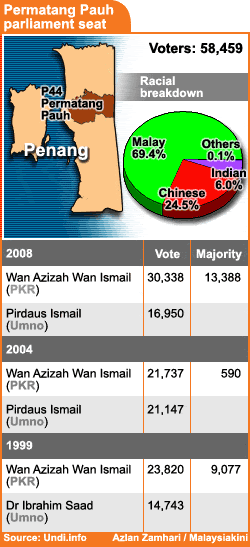 (Image courtesy of Malaysiakini)