A Banner at an

UMNO Protest Rally


during the Trengganu MB Crisis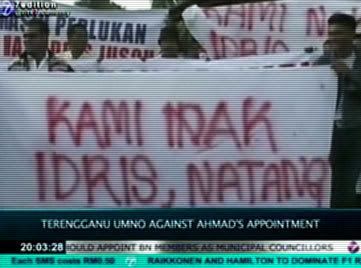 The Banners Says: "We want Idris, (You) Animal "
(In Trengganu dialect:
"Kami Hendak Idris, Binatang"

Binatang/ Animal ???

We ask that the authorities resolve urgently: TO WHO is this derogatory word being directed during the MB Trengganu crisis?
-
Malaysian Unplug
Image posted from
Rocky's Bru blog
Commentary:
From

Aisehman:

Read
here for more
".... Melayu Umno Kurang Ajar :

Ini betul Melayu kurang ajar. Apa nak jadi Melayu Umno ni?
From

Tumpang Sekole...

Blog: Read
here for more
"...Bukankah kain rentang berbunyi "Kami nak Idris, natang", yang bermaksud "kami hendak Idris, binatang" dalam loghat Terengganu perbuatan orang-orang UMNO?

Bukan UMNO kah yang bangga dengan ketuanan Melayu, pembela institusi Sultan dan Raja Melayu tiba menjadi penderhaka besar kepada Sultan dan Raja serta bangsa Melayu?..."
FLASHBACK:
March 13, 2008:
UMNO's Hishamuddin Hussein Onn's comments on DAP/Lim Kit Siang's fumbling statement
:
Ketua Pergerakan Pemuda UMNO, Datuk Seri Hishamuddin Tun Hussein

berkata,

tindakan DAP melalui kenyataan yang dikeluarkan oleh Penasihatnya, Lim Kit Siang semalam merupakan sesuatu yang di luar batasan.

"DAP secara terang TIDAK bertanggungjawab dan TIDAK

menghormati kedudukan kesultanan Melayu

.

Niat memulaukan istiadat pelantikan juga menunjukkan mereka hanya

gilakan kuasa

sehingga sanggup membelakangkan kesetiaan kepada Raja dan Negara

."