Read here
Accusations of PKR MP Zulkifli Noordin Against PAS MP Khalid Samad
Read
here Response of PAS MP Khalid Samad to PKR Zulkifli Noordin's Accusation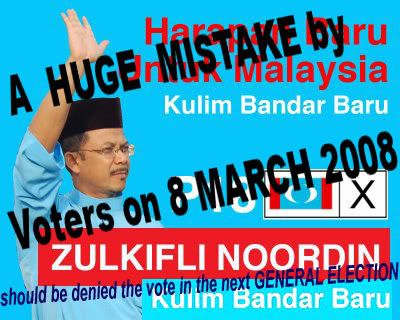 Ahli Parlimen PKR dari Kulim-Bandar Baru, Zulkifli Noordin menyifatkan ahli Parlimen Shah Alam dari PAS, Khalid Samad itu masih belum matang dalam berpolitik dan hanya sesuai berjuang di dalam DAP.

Ujar Zulkifli dalam posting terbaru di laman blognya:
" Malah saya berpendapat sikap dan tindak-tanduk beliau lebih sesuai untuk beliau duduk bersama dengan DAP.





Saya berani menegur beliau agar rakyat terutamanya umat Islam bangsa Melayu meletak keyakinan dan kepercayaan bahawa PR bukan sahaja akan membela kaum dan penganut agama lain, malahan PR juga komited untuk mempertahan dan membela umat Islam termasuk bangsa Melayu..."





Ramai di kalangan umat Islam dan bangsa Melayu hampir kehilangan keyakinan dengan perjuangan Islam dan bangsa Melayu dalam Pakatan Rakyat kerana adanya karektor seperti ini sedangkan majoriti penduduk dan pengundi Malaysia masih lagi orang Melayu beragama Islam."




- Zulkifli Noordin




Keterangan Khalid Samad Berkenaan Isu "Kalimah Allah".
(Read
here for more
)
Excerpts:
Ada yang menyatakan saya menyokong malah menggalakkan penggunaan perkataan Allah oleh masyarakat Kristian.
Sebenarnya kenyataan tersebut TIDAK benar.
Saya tidak menyokong ataupun menggalakkannya.
Saya sekadar menyatakan bahawa penggunaan kalimah tersebut oleh masyarakat bukan Islam merupakan satu perkara yang diharuskan berdasarkan ayat-ayat Al-Quran dan kebiasaan masyarakat antarabangsa, khususnya masyarakat Arab.
Kenyataan saya sebelum ini merupakan 'a statement of fact' atau satu kenyataan fakta dan soal saya menyokong atau menggalakkannya tidak timbul sama sekali. Ianya dipohon bukan oleh saya tetapi oleh sebahagian masyarakat Kristian tanpa apa-apa dorongan dari saya.

Namun, apabila saya ditanya, saya menyatakan fakta bahawa pada dasarnya tiada halangan untuk orang bukan Islam menggunakan kalimah Allah kerana sudahpun digunakan di banyak negara dan diperakui oleh Al-Quran sendiri.

Hujjah-hujjah berhubung persoalan ini telahpun saya nyatakan dalam tulisan saya sebelum ini.

Apa yang saya hendak tegaskan di sini ialah bahawa yang menentukan Islam atau tidak Islam bukan dengan penggunaan kalimah Allah tetapi kefahaman terhadap Allah sebagai Tuhan yang Esa. Ini disebut sebagai

konsep 'Tauhid'.



Itulah sebabnya mengapa apabila seseorang memeluk agama Islam dia mengucap

"Aku naik saksi tiada tuhan (yang disembah) melainkan Allah".



Ini bahagian pertama dari dua kalimah syahaadah. Ucapan ini berbentuk penafian dan penolakkan akan wujudnya tuhan-tuhan lain selain Allah.

Ianya bukan sekadar mengatakan "

Allah adalah Tuhan"

tetapi lebih dari itu ia juga menolak wujudnya tuhan-tuhan lain. Kalau kita perhati dan fikirkan sejenak dengan mata hati, maka kita akan memahami sebabnya.

Dari sudut dakwah Islamiah, sekiranya orang bukan Islam menggunakan kalimah Allah maka ia memudahkan kita berdakwah kepada mereka. Melalui penggunaan kalimah yang sama ini, iaitu 'Allah' kita sudah mempunyai titik pertemuan dari mana untuk bertolak.

Ini di dalam Al-Quran diistilahkan sebagai "ila kalimatin sawaain" atau 'kepada kalimah yang sama' dan metodologi dakwah sebegini yang telah digunakan oleh Rasulullah (SAW) berdasarkan perintah Allah yang terdapat di dalam Surah Al-Maidah ayat 64.

Sebenarnya isu ini merupakan sesuatu yang menguntungkan ummat Islam. Ia mampu menjelaskan kepercayaan Tauhid yang dibawa Islam di kalangan ummat Islam dan bukan Islam. Sambil itu ia membuka pintu dakwah kepada golongan bukan Islam, khususnya golongan ahli kitab.

Namun ianya sengaja

dikelirukan oleh pihak tertentu demi kepentingan politik mereka,

untuk mencari titik perbalahan menakutkan ummat Islam dan mengelirukan ummat Islam dengan lebih lagi.

Melalui kekeliruan ini mereka akan terus berkuasa, kerana rakyat yang keliru mudah ditipu dan dikuasai.


- Khalid Samad, PAS MP, Shah Alam



RELATED ARTICLE:
PAS MP (Shah Alam) Khalid Samad says PAS Deputy Spiritual Adviser Haron Din Speaks for Himself and NOT for

PA

S
Excerpts:
Read
here for more
PAS central political bureau member Khalid Samad, who had defended non-Muslims' right to use the term 'Allah' also noted that Haron's statement is '

not in line

' with the party's stand.
PAS deputy spiritual adviser Haron Din was simply
"expressing his own view
" when he described as
kufur
(non-believers) those Muslims who have come out in support of non-Muslims to use the word 'Allah'.
According to Khalid,
PAS has decided that non-Muslims are allowed to use the term as it is NOT forbidden in Islam.
Khalid said Haron's statement is 'completely reversed' from the party's stand.
"Even (spiritual leader) Nik Abdul Aziz Nik Mat has said non-Muslims are allowed to use the word, except that it is not suitable (in the) present situation,"
he said.
Haron was not present at the two-hour meeting at the PAS headquarters last night, where party leaders had discussed the issue and arrived at a consensus, said Khalid.
Yesterday, Haron stressed that any Muslim who supports the High Court decision - which allows The Herald to use the term 'Allah' in its Malay-language section - may become
kufur
.
The High Court decision last week has sparked outrage among several Muslim groups, who have threatened to hold a major protest.
The Home Ministry has appealed the decision and sought a stay of use of the word by The Herald, a Catholic publication.