Read
here for more in Malaysiakini
Anwar Can NO Longer Ignore the Zulkifli Noordin Problem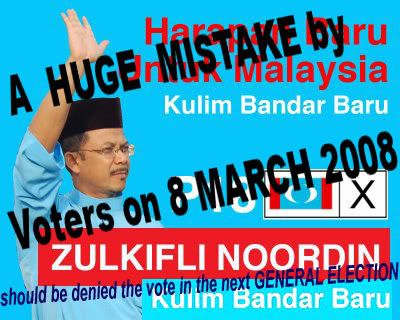 by
Terrence Netto
(Terrence Netto is a former journalist and he blogs HERE)
Pakatan Rakyat's leaders cannot afford to be comparably impervious to public anxiety over threats to their freedom to worship.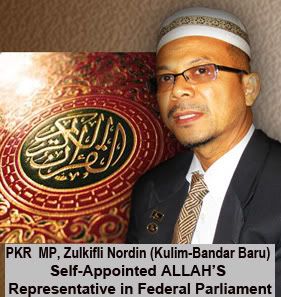 Thus Anwar Ibrahim can react proactively to this moment of national crisis by persuading
PKR's Zulkifli Noordin, the party's Kulim-Bandar Bharu MP,
to recant stances he has taken in recently on issues purportedly affecting the Islamic religion.
One of them is that the High Court decision allowing Catholic publication Herald to use the term "Allah" was inimical to the security of Muslims.
Anwar is on public record as early as December 2007, telling Christian leaders in Petaling Jaya, that since Christian children these days are largely Bahasa Malaysia speaking, they should be allowed to use the term 'Allah' in study and worship.
Zulkifli cannot claim ignorance of his leader's stance. He wrongly affects to give the impression that Islam is under siege in Malaysia.
He is eccentric in his protestations about alleged threats to Islam in Malaysia.
As far as can be seen, he has NOT said anything about the outrages that have taken place in the last few days.
Since behaving in a
unpardonably disruptive manner
towards a Bar Council meeting in 2008, an action for which the PKR disciplinary committee recommended punishment,
Zulkifli has proceeded to compound matters instead of taking due heed of his party's forbearance.
Anwar, who has led exemplarily in this current national crisis, can shake the dust off the disciplinary committee's stricture and demand the recalcitrant MP publicly recants and toes the party line or ship out.
Such action in these straits would enable Anwar to deflect critics who fault him for two-facedness and
bring to heel an
MP who has become an acute embarrassment.