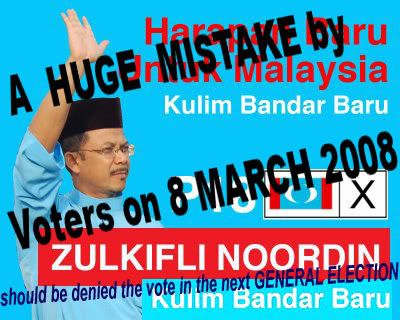 We Say:
Why is Anwar/PKR so scared and weak kneed to get rid of Zulkifli Noordin from PKR after countless times of his transgressions of party discipline?



Zulkifli Noordin's politics is substantially at tangent and is diametrically opposed to Pakatan Rakyat's Manifesto which was presented to Malaysian voters by Anwar Ibrahim at the March 2008 Election.

Zulkifli Noordin is a scourge to Pakatan Rakyat. He continues to destabilise the coalition parties at every crisis faced by Pakatan Rakyat.

He has in fact diminished PKR by his racially divisive attacks and his religious fundamentalist views.

Patience of Pakatan Rakyat voters and supporters is wearing thin by the day with Zulkilfi Noordin's antics of destabilisation of his own party and the Pakatan Rakyat coalition parties.

Anwar must act forcefully against Zulkifli Noordin in order to retain Pakatan Rakyat's relevance to Malaysian voters for the Coming GE 13


-Malaysian Unplug
Read
here for more
Zulkifli Noordin, who is the Kulim Bandar-Baru MP, had openly criticised the Kuala Lumpur High Court ruling that allows Christian publication Herald to use 'Allah' in describing God in its Malay-language section. He claimed that the word 'Allah' could be abused by the Christians and eventually confuse Muslims.


Zulkifli Noordin also challenged fellow Pakatan Rakyat MP from PAS Khalid Samad to step down and join Chinese-based party DAP for defending the non-Muslim right to use the word 'Allah'.


In June 2009, Zulkilfli Noordin accused Sisters in Islam (SIS) of misappropriating the word "Islam" through SIS's position that wearing the tudung was a personal choice, and SIS's criticisms of injustice in polygamous marriages in Malaysia. He asked the Companies Commission of Malaysia to force SIS to drop the word "Islam" from their name. He said

"In fact, I suggest that this group change its name to the Cosmopolitan Women's Alliance, in line with their image since most of them do not wear tudung and some of them are not even married,

".


In 2008, he and several other Malay-based NGOs had barged into a Bar Council meeting, resulting in the PKR disciplinary committee recommending punishment against him.


In the last Parliament session, the PKR maverick submitted 20 Islam-related motions, which appeared to contradict the policies of the multi-racial PKR. The motions, among others, were to proclaim that Malaysia is not a secular country, and to suggest that Islamic laws be made independent of the constitution.
Zulkifli Noordin had
publicly declared
:
"For me, Islam comes FIRST. (I am) a Muslim FIRST, a Member of Parliament (MP) , SECOND

.

"



WE Muslims

have been tolerant enough all this while, for so many years we have been asked, forced to live under the law that is not Islam.


WE have been forced."
According Malaysiakini, PKR vice-president Azmin Ali said Zulkifli Noordin has been told to respect the party's stand on the 'Allah' issue.
Speaking to Malaysiakini today, the PKR chief whip said Zulkifli was called up by the party supremo Anwar Ibrahim to clarify the matter at a recent meeting:
"After the 'Allah' issue came up, the party had a discussion with Zulkifli and action has been taken (based on that).

(At the meeting), he shared his views but the party finally told him to work within the Pakatan Rakyat framework."
According to a
Pro-PAS blogger
, Zulkifli Noordin was formerly a PAS member. He wanted to contest under PAS for the 2004 General Election but PAS REJECTED him.
In fact, just before the elections in 2004,
he was put on the black list
by ulama Haron Din. This prohibited him from speaking at Pas-sponsored ceramahs. Party leaders found him too explosive and divisive even for their liking. He wore out his welcome in PAS after his frequent clashes with several personalities.
Since he was not wanted in PAS in 2004 , he approached and was accepted by then-Parti KeAdilan to contest the Kuala Langat , Selangor Parliamentary seat in 2004.
Voters in Kuala Langat in 2004

rejected him and he lost to UMNO/BN's Shafie Salleh by 21,495 votes.
In 2008, he was picked again to stand this time in Kedah (Kulim-Bandar Baru) and won due primarily to the tsunami of anti-UMNO/BN votes.
And now Pakatan Rakyat is paying a heavy price for not taking due diligence of Zulkifli Noordin's divisive politics.
Readers' Comments
(Read
here for more in Malaysiakini
)
This guy is in the wrong party as before he thinks and act like a moron. So a moron deserves to get the boot... out he goes and no more vote. Pakatan please choose carefully, we don't need a laughing stock to represent us.


"Saving face" politics is not the way to go. As far as I am concerned, this Zulkifli Nordin is OUT. Why saving his face? Racist and extremist have no place in Pakatan Rakyat


I will tell my Kulim friends ... don't vote for him coming election if PR don't drop him.


This Zulkifli is not a loyal party member, he is the Ibrahim Ali as far as PAS is concerned. With one Zul in PKR, the party loses thousands of good supporters. So, why PKR is so afraid to sack this man from the party?


"Saving face" politics is not the way to go. As far as I am concerned, this Zulkifli Nordin is OUT. Why saving his face? Racist and extremist have no place in Pakatan Rakyat


I will tell my Kulim friends ... don't vote for him coming election if PR don't drop him.


Just drop him in the next election.


Vote him out.. next elections


Mr Azmin Ali (VP), why did not you come clear with regards to the type of action taken, PKR supporters have the right to know. Don' t forget DSAI has issued his stern warning not long ago and that did not stop him. Saying his actions could be due to his ignorance of party policies really ridiculed you and your position. For goodness sake, that guy is a trained attorney! And why can't he issue a statement to declare his stand after all it is he who created the situation. Look at Tan Meng Huat of DAP - he started a problem and he ended it with a public apology to the party. That is discipline. He and his party also earn our respects.


Azmin, you guys need to be strong and tell this chap Zulkifli that if he continues to be like this just chop him off. How can the general go to battle when the soldier keep disobeying his command. PKR will lose not only the battle but the war if this continues. The people will perceive PKR generals as being week and how can the people hand over the country to PKR and alliance if this continues. It would be better tom lose the battle but finally end up winning the war. Please be firm and show that your party is worth the votes.


Zulkifli Noordin, if you can't abide by the team's rules and regulations, go independent or go to UMNO. Don't you ever forget that you were elected by the people based on your party ticket and not you as a person. If you think otherwise, let's conduct a detailed survey asking every voter their feedback. Some independent agency could help you and us to do that. If you still think otherwise, resign and seek re-election in the next GE13 (as the current law does not allow you to seek re-election right away.