Blogger Dr Mohamed Rafick Khan
presented a cheque of RM 8,467 today at a simple ceremony witnessed by Gombak police chief Zakaria Pagan to The Metro Tabernacle church.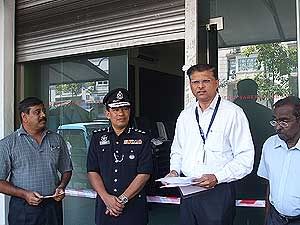 Dr. Rafick Khan in white shirt
The church suffered more than RM1 million in damages when the premises were fire-bombed in an arson attack.
The money was collected after Rafick Khan posted an appeal on his
Rights2Write BLOG
, and 180 people responded. Among them were readers, friends and neighbours.
Dr Rafick Khan said one of the biggest donors was
Marina Mahathir
, daughter of Dr. Mahathir Mohamad, who chipped in RM 1,000. Marina
blogs at HERE
He said the donation was not about the money but to show the spirit of the community.
Compare the goodwill outreach of blogger Dr Rafick Khan with
another Muslim Blogger calling himself "Mahaguru58" (aka Zainol Abideen) who wears a devout Muslim label on his forehead
but engages in Un-Islamic obnoxious behaviour in speech and in attitude.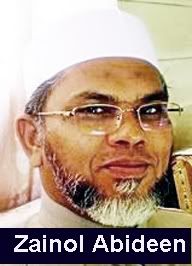 Muslim Blogger
"Mahaguru58"
aka
Zainol Abideen
volunteered to be the
hidden black hand
of Ahmad Zahid Hamidi, JAKIM and several UMNO-bureacrats to bring together Muslim bloggers under the umbrella of newly-formed
Muslim Bloggers Alliance
(MBA) - the list of names of their members included in its
website
- to demonise the Catholic Church for wanting to pursue with the use of the word "Allah" in the Catholic church magazine "Herald".
Read
here in Malaysia-Today his leaked email to MBA members
on his secret meeting with Ahmad Zahid Hamidi.
For more on this particular Sufi Muslim blogger who goes by the name of
"Mahaguru58"
, read
here
and
here
and
here in Malaysia-Today
.
Church official Ebinezar John, who accepted the donation from Dr Rafick Khan
(see photo above)
, said plans have been made to rebuild the premises, pending clearance of the insurance claim.
"We don't have a fax machine or a phone right now, so we are operating out of our homes and using our personal mobile phones,"
he said.
Another church official, Esther John, said services will continue at alternative venues, with the upcoming one at Wisma MCA.
The church also received RM500,000 from the government today. CIMB
(a government-linked corporation)
has also donated RM100,000.