Read
here for more
MACC:
Institusi Yang TAK Berguna
Kepada Rakyat Malaysia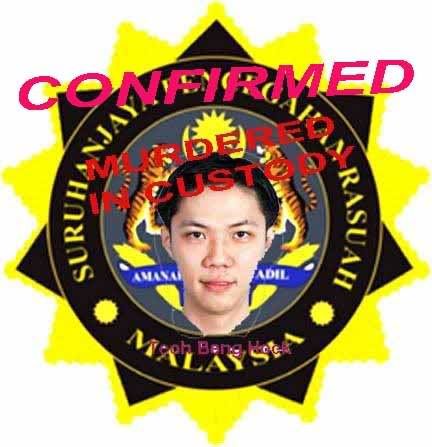 MACC's Response:

Filed a Police Report Against
Thai Forensic Pathologist Dr. Pornthip


Related Article:
Teoh Beng Hock was murdered.

Top Thai pathologist Dr Pornthip Rojanasunand has sufficient evidence to prove that he was killed.



The Parti Keadilan Rakyat organ, Suara Keadilan, quotes unnamed Health Ministry sources as saying that Pornthip reached her conclusion after a second postmortem at the Sungai Buloh hospital.





The report adds that Pornthip has made known her findings to all relevant groups, including the Teoh family and the Selangor government, which commissioned her services

. Read here for more

The Malaysian Anti-Corruption Commission (MACC) has filed a police report against Thai pathologist Dr Pornthip Rojanasunand (picture) over her statement about the possibility that Teoh Beng Hock was murdered.

MACC officer Raub Ghani, who made the report in Shah Alam this morning, claimed Pornthip had leaked the contents of her autopsy report to "irrelevant parties" and was thus in contempt of court.

The inquest into his death is set to resume next Thursday.
VIEWS from Malaysians on MACC's Action

So we are expected to expect positive changes in the MACC after the departure of its top honcho, you know who? The very first day of a new year and a new MACC boss, and you have this happening! Nothing will ever change.


I think they should arrest Dr. Pornthip and questioned her in Plaza Masalam. Please do it MACC!


A strategy to prevent the renowned pathologist to give her views in court next week?


Something must be very very wrong with the POLICE system in Malaysia. Anybody can lodge a report against anybody on anything. It's happening so frequently that it is not funny anymore. And even the police themselves and now the agency which is supposed to fight corruption are making police reports. Next the IGP himself will make a police report; followed by all the other government agencies including MINDEF, KDN, Minister of Health, Minister of Education and who knows even the PM himself will make a police report.


MACC 's idea of lodging police report against Dr Porntip for leaking her report is really brilliant and surely will stop The Buddhist doctor from appearing in court to testify. Of course the Police must do their part by asking Dr Porntip to present herself at the station where she is told there may a case a against her and probably will be detained for a couple of days for investigation. Wow what a great plan, even though the English Pathologist may not be able to save them, in the light of unrefutable evidence of murder, this will stop Dr Porntip dead in her tracks in revealing the truth. Huray! Dr Porntip won't be coming…….MACC revels.


First there are parties which tries to frighten off the good Doctor Pornthip from attending the second Autopsy. Now it is the time to apply the instrument of the Nation to de-rail the truth from emerging.


Disgusting,Pathetic! That's what we can sum up the stupidest action taken by moron MACC. By the way, she was appointed by Teoh's family and Selangor govt as part of Teoh's family (well I can say by all Malaysians except UMNO) as a 'prosecution' witness against the MACC and the Govt! MACC is so desperate and trying all their idiotic means to block Dr. Ponthip to testify in court! SICKENING!



Hey, MACC, the taxpayers didn't pay you to make police reports. Get on with your @#$% job, one which you can't even do professionally.