Note: MBA= Muslim Bloggers Association



Email from MAMAK Blogger "Mahaguru58 " (Zainol Abideen)
as President of MUSLIM BLOGGERS ALLIANCE
to Members of Muslim Bloggers Alliance
"..... I was invited to a CLOSED door meeting with Datuk Seri Dr. Hj. Ahmad Zahid Hamidi, Minister in the Prime Minister's Department and in charge of Islamic Affairs, Government of Malaysia, day before yesterday at the Shangrila Putrajaya. The meeting took place at 9pm at a designated meeting hall in the exclusive hotel.

The invitation to me was relayed by

Rocky Bru @ Ahiruddin Atan,

President of All Blogs to discuss amongst many other topics,

the problem being created by the publishers of the Malaysian Roman Catholic Magazine 'Herald' who remain OBSTINATE in using the term 'Allah'

to represent their idea of God in their Malay section of their Christian magazine.

Fellow blogger

Nuraina Samad who blogs at http://nursamad.blogspot.com,

the daughter of National Laureate, Allahyarham Tan Sri Samad Ismail, was also there and two other bloggers who wish to remain anonymous.



Rocky Bru and Nuraina Samad

.... have asked me to join forces with them in clearing the air about what our stand is against the Christian Catholic magazine usage of 'Allah'.

Datuk Seri Dr Ahmad Zahid Hamidi also said that he wishes to have those of us who attended the meeting at Shangrila Putrajaya to be ready to have an audience with His Majesty, the Yang Di Pertuan Agong soon to address this current situation where Islamophobia has been festering for quite some time without the decisive corrective action be taken by those before him?

Datuk Seri Dr Ahmad Zahid Hamidi also asked not to let the cat out of the bag for now for we have enemies both in and out of the ummah.

I am sharing this confidential development with you .. in total trust that you will NOT disclose

about this meeting between myself

,

Rocky Bru, Nuraina Samad

, those two other bloggers and the Minister

and others especially the Director General's of our nation's top most Islamic Departments because I need to select and choose those who are willing to be amongst our top 40 MBA delegation to be invited to the next meeting with the Minister and others.

-"Mahaguru58 aka Zainol Abideen (see his blog HERE)

UMNO's Responsibility In The Firebombings Of Churches Is Undeniable

by
"Perisik Rakyat"
Read
here for more
An email I received, shortly before I was kicked out by the Pro-Tem President of a Pro Tem organization called "Muslim Blogger Alliance" led by a figure who calls himself
Mahaguru58 (Zainol Abideen) .
Apparently, the meeting was also attended by the likes of
Rocky Bru
(Ahirudin Attn) and
Nuraina Samad,
figures who has always been seen as liberals.
Please bear in mind that the meeting was held last year (2008) . In other words, UMNO's resistance against "The Herald" has been on record since last year and not something new.
Among the principle attendee of the meeting are
high ranking members of JAKIM
and the great
Dato Zahid Hamidi
himself.
The issue of "The Herald" using the term Allah is apparently HIGH on the meeting's agenda.
I tried to put some sense in the MBA by writing articles stating the futility of their cause and that Islam permits the usage of Allah for non Muslims.
But instead, Mahaguru58 (Zainol Abideen) kicked me out of the forum without offering a single explanation.
So much for calling himself a supported for the Islamic cause. Where type of Islam is he trying to exhibit by kicking me out without any reason offered? A classic example of a hypocrite (munafik).
What's also funny is that the President of MBA (
"Mahaguru58 aka Zainol Abideen
) has also
admitted to be following a Sufi sect deemed to be deviated by JAKIM
. Yet, JAKIM still treats the "Mahaguru58" as their ally.
Funny, how pragmatic people if JAKIM can become
.
An excerpt of the email can be seen bel
ow :
Email from : "Mahaguru58" aka ZAINOL ABIDEEN (whose blog is HERE),
Protem President of "MUSLIM BLOGGERS ALLIANCE) (MBA)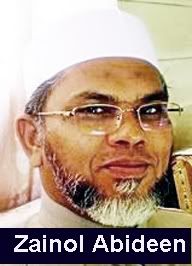 Blogs as "MAHARUGURU58"
Assalamualaikum dear MBA members.

I was invited to a closed door meeting with Datuk Seri Dr. Hj. Ahmad Zahid Hamidi, Minister in the Prime Minister's Department and in charge of Islamic Affairs, Government of Malaysia, day before yesterday at the Shangrila Putrajaya. The meeting took place at 9pm at a designated meeting hall in the exclusive hotel.

The invitation to me was relayed by Rocky Bru @ Ahiruddin Atan, President of All Blogs to discuss amongst many other topics, the problem being created by the publishers of the Malaysian Roman Catholic Magazine 'Herald' who remain obstinate in using the term 'Allah' to represent their idea of God in their Malay section of their Christian magazine.

Fellow blogger Nuraina Samad who blogs at http://nursamad.blogspot.com, the daughter of National Laureate, Allahyarham Tan Sri Samad Ismail, was also there and two other bloggers who wish to remain anonymous.

Also attending on behalf of the Malaysian Government's side was Dato' Hj Wan Mohamad bin Dato' Sheikh Abd.Aziz, the Director General of JAKIM, the Islamic Development Department of Malaysia, Dato' Hj Ibrahim bin Lembut, the Director General and Chief Syarie Judge of the Syariah Justice Department of Malaysia, Datuk Dr. Syed Ali Tawfik Al Attas, the Director General of IKIM, the Institute of Islamic Understanding Malaysia and other top officials of the Ministry (Islamic Affairs, Prime Minister's Department).

The main subject of discussion centred upon the Minister's wish that the Malaysian Bloggers especially those of us here in The Muslim Bloggers Alliance led by me together with All Blogs under Rocky Bru join forces with the Ministry (Islamic Affairs) and support JAKIM, IKIM and other related Islamic Affairs Departments to help clear the misunderstandings being unleashed upon the Malaysian populace by those who have vested agendas against Islam and the Muslims of Malaysia by creating this wave of controversy by pushing for such unheard of demands before to use 'Allah' for their obviously unIslamic publications, etc.

The Minister has been following postings done by many of us in the Malaysian Blogosphere and supports the good work that most of us do to help fight against the enemies of Islam through our respective blogs.

He admits to regularly read me too and also said that many of his fellow ministers support me and those of us here in the Muslim Bloggers Alliance.

Rocky Bru and Nuraina Samad are at the moment embroiled in engaging the Islamophobes out there in our volatile Malaysian blogging scene and have asked me to join forces with them in clearing the air about what our stand is against the Christian Catholic magazine usage of 'Allah' to describe their distorted idea of God when in truth they do not preach what Eesa Alaihis Salam himself preached that is to worship none other than Allah Subhanahu Wa Ta'ala?

We discussed many things and amongst the ideas mooted was my idea to first and foremost register our MBA and after that to launch a 'Mobile Dakwah Unit' national team where we would be using a 3 sided open panel van to travel to most major cities and rural areas.

Volunteers would then stop these Mobile Dakwah Units at places to be chosen in major towns and public fields.

We would after Isya' prayers start screening informative documentary films about what Islam truly is and to help the public gain truthful information about our Islamic faith.

The screening will be done using projectors and utilize mobile projection screens when needed or use the area's building walls when necessary.

Airing informative documentaries through the broadcasting channels doesn't attract on the field interactions such as what I proposed to the Minister and the JAKIM, IKIM and Syariah DG's?

We need to return to the basics and approach the public face to face.

We can then after screening such films and documentaries attend to and answer any questions posed by the public as far as matters such as the Hudud Laws of Islam, the subject of apostasy as in the cases of Lina Joy, Subashini and others, this usage of Allah by the Christian Catholic Herald Magazine, and other matters which are being misunderstood by the majority of Malaysians, both Muslims and Disbelievers alike?

By using this direct to the people approach, we will then also be able to distribute booklets, brochures, informative DVD's and other Islamic Information material for free to the general public.

The Minister supports this idea of mine and asked me to coordinate with JAKIM, IKIM and the Syariah Justice Department to work out the program.

As far as the monetary needs are concerned, the Ministry will help where it can and Datuk Seri Dr Hj Ahmad Zahid Hamidi asked that we here in the MBA come up with about 40 dedicated bloggers whom he wants to join him and the other top government officers in a meeting to discuss this matter proper.

He also said that he wishes to have those of us who attended the meeting at Shangrila Putrajaya to be ready to have an audience with His Majesty, the Yang Di Pertuan Agong soon to address this current situation where Islamophobia has been festering for quite some time without the decisive corrective action be taken by those before him?

Datuk Seri Dr Ahmad Zahid Hamidi also asked that we work in tandem with one another andnot to let the cat out of the bag for now for we have enemies both in and out of the ummah.

I am sharing this confidential development with you who are subscribed to and registered with the MBA in total trust that you will not disclose about this meeting between myself, Rocky Bru, Nuraina Samad, those two other bloggers and the Minister and others especially the Director General's of our nation's top most Islamic Departments because I need to select and choose those who are willing to be amongst our top 40 MBA delegation to be invited to the next meeting with the Minister and others.

I am also giving you notice for each and every MBA member who is registered with us to update your details in the member profile. I am going to update the official MBA website with a list of every MBA member with links to their respective blogs for the general public to access and view them.

I need each of you dear MBA members to email me with your full list of personal details for at the moment we do not yet have a proper working committee to prepare all these. I know that most of us are terribly busy with our own work and personal life's but this is Fardhu Kifayyah as far as I am concerned for the future of our ummah here in Malaysia depends on what we choose to do in order to see to it that our Deen is protected from the evil designs of our enemies out there, both declared and covert.



You need to be courageous and be firm when speaking up for Islam.



I need you to be with me in seeing to the proper registration and formation of this Muslim Bloggers Alliance. Today, we have come to be recognized as a legitimate representative of the Muslim Bloggers this side of the world.

The Minister himself has given us his blessings and we stand to be able to contribute officially as an Islamic NGO and do what we can for the ummah and the nation using our collective pool of thoughts and ideas to help our fellow Muslims and Malaysians in general.

I ask that you please email me your full details as per the usual necessary details needed for registering your membership here in the MBA:

1. Full name
2. Full blog address
3. Email address
4. Contact Mobile Number
5. Gender
6. Age
7. Profession

We do not have a secretary yet. For now it is all up to me and Brother Ades has graciously set up and sponsored our main website. He himself is quite busy with his studies and I do not wish to burden him unnecessarily.

I'm okay with the setting up of this MBA on my own for now but when we are all ready to meet and set up our office in actuality, I hope that those of you who are able to will come forth and do your part by assuming ownership and taking responsibility for the running of the MBA proper.

I do not wish to see this MBA die with me. I need you to carry on after I'm no longer around or unable to if I'm to live to be old and grey in the real sense of the word. :P

Please resend me your details here to my emails: admin@themuslimbloggersalliance.org This e-mail address is being protected from spambots. You need JavaScript enabled to view it

mahaguru58@gmail.com This e-mail address is being protected from spambots. You need JavaScript enabled to view it



Remember, keep this info contained in this email confidential.



I trust you to hold to this in the Name of Allah Subhanahu Wa Ta'ala.

Wabillahi Taufik Wal Hidayah. Wassalamualaikum Warahmatullahi Wabarakatuh.

(Mahaguru58), Protem President
MUSLIM BLOGGERS ALLIANCE

Profile of Blogger Mahaguru58 aka Zainol Abideen
Company: Zain Business Services See
here company website
Email : mahaguru58@gmail.com SMS :mobile : 6-016-3969881
MEMBERS of the MUSLIM BLOGGERS ALLIANCE (MIBA)
RELATED ARTICLE
14 April 2009
Lepas Ni, Kalau Ada Kedai Judi Baru Bukak, Pergilah Baca Doa Selamat
Read
here for more
by
"Tulang Besi"
Ni saya nak cerita ni pasal ada
seorang blogger ni
. Dulu bukan main kuat dia sokong Pakatan Rakyat.
Tapi semenjak

Rocky Bru

dengan

Noraina Samad

anjurkan perjumpaan dia dengan

Dato Zahid Hamidi

di Jabatan Perdana Menteri, sekarang ni dia dah berubah jadi penyokong belah sana pulak.
Saya tak nak dedahkan identiti dia buat masa ini, tapi tak taulah kalau dia melampau sangat mengkritik PAS dengan kritikan-kritikan yang tidak berasas, saya akan dedahkan.
Semasa berjumpa dengan Zahid Hamidi tu

, habis semua pegawai kerajaan dibawa berjumpa dengan blogger ni.
Kononnya Islam dalam bahaya.
Dan contoh yang paling besar yang dibawa oleh Zahid dan juak-juaknya adalah penggunaan nama Allah oleh golongan Kristian.
Saya cabar blogger ni, cuba bawak satu fatwa dari Al Azhar mengharamkan penggunaan nama Allah SWT oleh kaum Kristian. Kristian koptik d (dibaca "Church of Alexandria") telah menggunakan kalimah Allah dalam segenap upacara keagamaan mereka termasuk dalam majlis peribadatan mereka sejak beratus-ratus tahun dahulu.
Dan Universiti Al Azhar tak bising pun. Yang bising hanyalah puak2 UMNO dan juak2 Zahid Hamidi serta beberapa blogger yang menjadi alat UMNO sekarang ini.
Saya hairan, mengapa pihak Jabatan Perdana Menteri dan
Zahid Hamidi
tak naikkan permasaalahan judi dan arak di Malaysia. Mengapa kerajaan Hadhari UMNO ini masih lagi memngeluarkan lesen judi dan arak.

Saya pun hairan mengapa blogger seperti

Nuraina Samad

dan

Rocky Bru

ni "

bengong

" sangat tak dapat memikirkan benda mudah ni?


Saya pun tulislah artikel bertajuk " Antara "Islam-DAP" PAS Dengan "Islam-Tokeh Judi" UMNO" dan suruh dia baca.

Dia pun baca dan terus tulis artikel dlm blog dia. Saya baca la artikel dia tu. Bukan main dia kutuk Kerabat Diraja Negeri Sembilan dan dia sampai kata nasib baik N9 tak dapat Yamtuan yang menjadi tokeh Arak (pasal Tunku Naqiyuddin adalah Director Calrsberg).


Tapi, takda pun dia sebut pasal Najib Tun Razak baru lulus 10 lesen judi. Takda pulak dia sebut yang segala lesen judi dan arak dalam Malaysia ni adalah melalui kelulusan UMNO dan BN.

Takda pulak dia sebut yang UMNO menjadi kawan utama kepada tokeh2 judi dan arak ni. Kalau tidak, mengapa boleh ada 3 orang melayu yang boleh duduk dalam "Board of Directors" Calrsberg. Sudah tentu 3 "ekor beruk" ni sudah mendapat restu dari UMNO?
Blogger ni pun mengamuk sakan la kat saya. Macam-macam la dia kata kat saya ni. Saya cuma bertanya kenapa part Najib lulus 10 lesen judi extra tu dia tak sebut. Kenapa nak marah?
Dia pun nak tunjuk la yang dia ni Islamik dengan membesarkan isu director Calrberg ni ada orang Islam tapi benda lain yang menjadi sebab terjadi perkara ni dia tak sebut. Pasal Najib lulus lesen judi ni langsung dia tak sentuh.
Dia cuba mencabar kerajaan Pakatan Rakyat di Selangor untuk menutup kilang arak dan kedai judi di Selangor.
Saya cakap, proses pengurangan judi dan arak di Selangor sedang berjalan dengan lancar. Kita tak boleh haram judi dan arak secara total kerana Selangor 52% bukan Islam. Kita boleh haram kepada orang Islam sahaja.
Undang-undag sudah ada tapi UMNO tidak mahu menguatkuasakan undang-undang tersebut. Fasa pertama adalah menguatkuasakan undang-undang yand sedia ada.
Tak macam UMNO yang jelas telah menambah lesen judi di Malaysia yang menjadi sokongan blogger tersebut.
Kalau Ada Kedai Judi Baru Bukak, Pergi lah Baca Doa Selamat
Akhir sekali, saya kata, kalau dia dah kemaruk sangat nak sokong UMNO balik, bila ada premis judi tambahan yang akan dibuka ekoran dari kelulusan Najib Tun Razak ni, bolehlah dia pergi baca doa selamat.
Janganlah guna alasan untuk bersatu dan merapatkan saf umat Islam semata-mata kerana mahu menunjjukan seolah-olah tindakan menyokong UMNO itu benar.
Terimalah hakikat sesungguhnya menyokong UMNO dan bersatu dengan UMNO adalah menyokong tokeh-tokeh judi dan arak. Itu sahaja yang perlu anda terima.
Masalah Bila Nak Berjuang Islam Tapi Takda Ilmu
Blogger ni dia letak gambar dia pakai kopiah dlm blog dia. Konon nak tunjuk dia pun kuat Islam.
Hakikatnya apa tindakan yang beliau sedang lakukan sekarang ini merugikan Islam dan menguntungkan tokeh judi dan arak.
Dia sebuk nak canangkan perpaduan Islam konon, tapi takkan PAS nak bersatu dengan balachi tokeh2 judi dan arak mcm UMNO?
Seburuk-buruk DAP pun, diorang tak pernah menyokong judi ni. Saya masih ingat antara yang lantang menentang judi di Parlimen adalah ahli-ahli Parlimen dari DAP sehingga ada yang dihalau dari dewan.
Malahan, Mao Tze Tung mengharamkan kasino dari dibina di mana-mana tempat di China. Tapi UMNO dengan bangganya menyokong dan mengalakkan judi dan arak di Malaysia.
Lagi sekali saya nasihatkan blogger ni, lain kali bila ada kedai judi baru yang hendak dibuka, pergilah baca doa selamat.
Dia pun tinggal kat Bandar Tun Razak di bawah penguasaan DBKL/UMNO. Ertinya kelulusan baru Najib Tun Razak tu akan dilaksanakan di Wilayah Persekutuan dan kemungkinan Bandar Tun Razak akan mendapat premis-premis judi yang baru.
Eloklah kalau blogger tersebut buat tahlil dan doa selamat merayakan 10 lesen judi lulusan Najib Tun Razak tersebut.
Tulang Bes
i

MAHAGURU58 and the SUFI sect of Islam
Posting dated: 8 July 2006
Read
here
Tariqat Naqsyabandiah- a Sufi mureed's memori
es
by
"Mahaguru58: aka Zainol Abideen

Mahaguru58 with other fellow Sufi Muslims
Excerpts

As a Muslim, I sought deeper knowledge of my faith in various schools and paths of realizing my inner yearnings to improve my religious practices.

After being involved in Dakwah as the Founding Secretary of the Islamic Propagation Centre International with my fellow Da'ee's, Brother Haji Mohamad Yassin of Standard Chartered Bank Penang and Brother Haji Kamarudin Abdullah of the Malaysian Airline System,

I sought to learn more about the inner sanctum of spiritual knowledge of Islam, that is Sufism.





Tariqat Naqsyabandiah

led by Syaikh Nazim Adil Al-Haqqani Al Qubrusi An-Naqsyabandi was the

tariqat

that I was introduced to by my best friend, Haji Yassin.

I took bay'ah from Syaikh Adnan Adil Al-Haqqani, the brother of Syaikh Nazim and among the Tariqat's Khalifah's, circumventing the globe , setting up Zawiyas and Islamic Centers all over the world.

This is all up to the individual Muslim or Muslimah in seeking enrichment of their self appreciations of a higher level of religious spiritualism

that is widely known as the World of Sufism.

.."
- "Mahaguru58"
Mahaguru58 Mengikut Tariqat Sesat?
Posting dated: November 5, 2009
Excerpts:
Read
here for more
Blog Mahaguru58 ini juga adalah blog yang ramai mengunjunginya.
Blog beliau juga dipenuhi dengan doa2 dan kata-kata hikmah yang dipetik dari Al Quran dan Hadeeth Nabi SAW.
Ertinya, bagi yang tidak mengetahui, mereka akan mudah mempercayai kononnya Mahaguru58 ini adalah pejuang Islam dan memperjuangkan keagungan Islam.
Namun, apabila akidah seseorang itu rosak, tidak kira berapa besar serban yang dipakai atau berapa putih jubah yang menyelimuti tubuh, orang itu tetap sesat dan tidak boleh diikuti.
Mengikut pendedahan Nizam Mahmud, Mahaguru58 ini mengikuti sebuah tarikat bernama
"Tariqat Naqsyabdi Al Aliyyah ".
Ini diakui oleh Mahaguru58 sendiri dalam artikel yang beliau sendiri tulis. (
http://mahaguru58.blogspot.com/2006/07/tariqat-naqsyabandiah-sufi-mureeds.html
).
Nizam Mahmud memberi sebuah "link" berkaitan fatwa dari Majlis Fatwa Kebangsaaan di atas tariqat sufi ini di sini:( http://www.mail-archive.com/islah-net@yahoogroups.com/msg06556.html)

"Keputusan Fatwa Muzakarah Jawatankuasa Majlis Fatwa Kebangsaan Bagi




Hal Ehwal Agama Islam:



a)

Tariqat Naqsyabandiah Al-Aliyyah di bawah pimpinan Syeikh Nazim




bertentangan

dengan fahaman akidah Ahli Sunnah Wal-Jamaah dan


menyeleweng dari ajaran Islam. Pengamal ajaran ini hendaklah segera




bertaubat.



b)

Semua negeri dikehendaki memfatwa dan mewartakan bahawa tariqat


Naqsyabandiah Al-Aliyyah di bawah pimpinan Syeikh Nazim

diharamkan




dan tidak boleh diamalkan oleh umat Islam

kerana ia bercanggah


dengan ajaran Islam yang sebenar."
Kalau Benar Mahaguru58 Masih Mengikut

Tariqat

Ini, Minta Beliau Bertaubat
Saya tahu, pergerakan tariqat ini cukup kuat dan ahli mereka semakin ramai. Tapi, itu bukan alasan untuk meneruskan penglibatan di dalam Tariqat yang sudah didapati sesat ini.
Saya menyeru, sekiranya MAhaguru58 masih lagi menjadi ahli Tariqat ini secara aktif untuk bertaubat dan meninggalkan tariqat ini sama sekali.
Ahli-ahli Majlis Fatwa Kebangsaan adalah mereka yang pro kepada Tariqat juga. Jadi, mereka bukan Salafi yang menolak semua tariqat.
- Tulang Besi